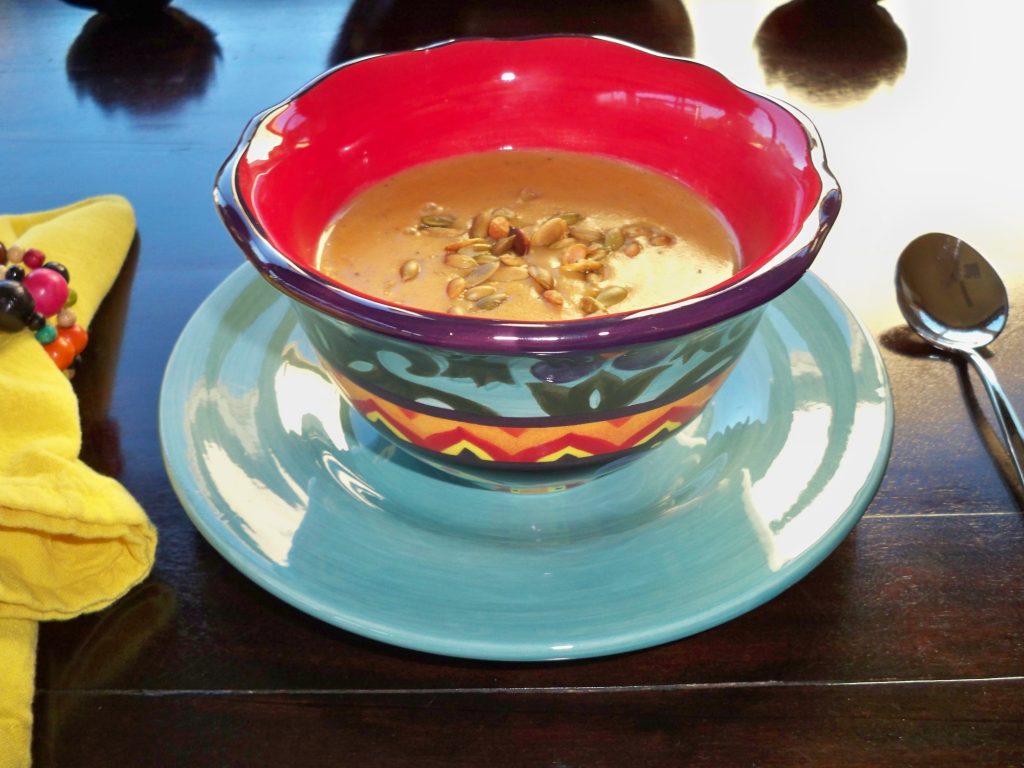 Dee's Creamy Butternut Squash Soup
Serves 6
Heartwarming, heart-healthy and delicious!
What you'll need:
3 to 4 whole large butternut squash, peeled, seeded and cubed OR
Pre-cubed packaged butternut squash to equal about 4 pounds
Olive oil for sauté, about 2 teaspoons
2 large leeks, white and pale green parts, rinsed well and coarsely chopped
If no leeks are available, use one large white or yellow onion, coarsely chopped
1 whole clove garlic, minced
2 cups organic chicken broth OR
2 cups organic vegetable broth (if you are eating vegan or vegetarian)
1 or more  cups low fat milk, just enough to cover the veggies in the pot and thin the soup at the end (soy milk or almond milk if eating vegan)
Maple syrup to taste
Nutmeg
Salt and freshly ground pepper to taste
Roasted pumpkin seeds or sliced toasted almonds for garnish
Steps:
If using whole squash and baking it, preheat oven to 375 degrees. Line rimmed baking sheet with aluminum foil or parchment.
Halve the squash vertically and remove the seeds with a large spoon. Peel and cut squash into coarse pieces or cubes.
Scatter the squash in the baking sheet and drizzle with maple syrup and a little salt. Bake the squash for 45 minutes to 1 hour or until it is tender and golden. You may want to cover it lightly with an aluminum foil tent for the first 15 to 20 minutes, but then remove to complete baking.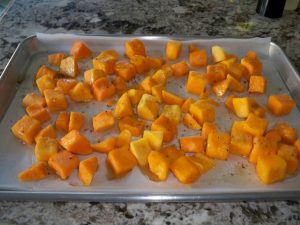 4.  Meanwhile, heat oil over medium heat in large heavy-bottomed pot. Cook leeks (or onions)  about 20 minutes until caramelized.  Add garlic and stir for 2 minutes.
5.  When the squash has finished baking add it to the pot with the onions and garlic, scraping up any bits of sweetness on the pan.  If you have microwaved the squash or if you are just adding it raw to the pot, add it now and cook until the squash is tender. Your cooking time will vary, of course, depending on whether you have pre-cooked your squash.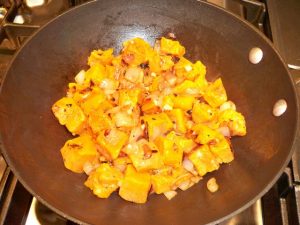 6.  Add enough broth and milk  just to cover the top of the squash. Bring to the boil, then reduce heat and simmer 10 minutes.
7.  If using a blender, cool the soup a little and puree in batches, then return to pot. If you have a hand or immersion blender, all the better! Just puree it in the pot!  If it is too thick, add more milk. I prefer almond milk for this soup as it blends well with the combined flavors of the veggies.
8. Now is the time for you to season the soup just the way you like it! Start with a dash or grind of nutmeg, about 1 Tablespoon of really good maple syrup. Add some salt and pepper to taste. Stir it up and let the flavors blend. Taste again and adjust seasonings until the soup is perfect for your taste!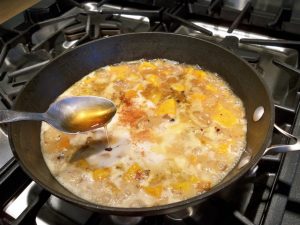 Keep warm until serving time. When ready to serve, sprinkle the top of each portion with either toasted pumpkin seeds or toasted slivered almonds.