I have the luxury of a home garden and one thing that grows abundantly is zucchini!
Here is something to do with those zucchini that grow very large – stuff them.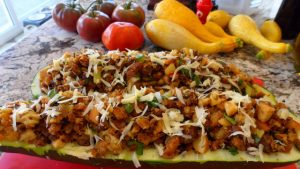 Stuffed Zucchini Scampi
What you'll need:
1 pound of seasoned bulk sausage of your liking….turkey or pork
(If you prefer to make this vegetarian, just leave out the sausage)
6 firm, ripe zucchini, each about 5 inches long OR
One very large zucchini, about 16 to 18 inches long
1 large yellow onion, finely chopped
4 or 5 mushrooms, chopped coarsely (optional)
2 to 3 slices stale bread, made into coarse breadcrumbs
4 to 5 slices firm good quality raisin bread (Ezekiel sprouted is good)
¾ to 1 cup golden raisins plumped* in sweet wine, port or apple juice
3 unpeeled apples, cored and cut into bite-sized chunks
6 to 8 cloves garlic, crushed or finely chopped
1/4 cup dry white wine
extra virgin olive oil, 1/8 to 1/4 cup for frying
1/2 cup  Italian parsley, coarsely chopped
10 to 12 fresh basil leaves, coarsely chopped or julienne
½  cup Romano cheese
½ cup Gruyere or your favorite cheese, coarsely shredded
Basil julienne for garnish
Salt and freshly ground pepper to taste
* Quick way to plump raisins:  put them in a microwave safe dish like a custard cup and cover with port. Microwave on high for 2 to 3 minutes and let them set for about 15 minutes.  Voila! Plumped raisins!
Steps:
Wash the zucchini well and cut in half lengthwise.  Scoop out the pulp with a spoon, taking care not to cut through the skin of the zucchini, and reserve pulp, placing the hollowed out "shells" side-by-side on a baking pan lined with aluminum foil.
If you are using a very large zucchini, you may find that the pulp is pithy and full of larger seeds.  If this is the case, omit this pulp and continue with the recipe.  This pulp will make good compost!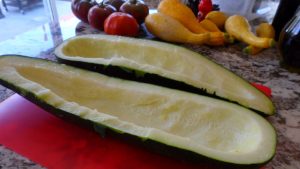 3. Coarsely chop the zucchini pulp if using, onion, mushroom and apple and set aside.
4. In a very large sauté pan, begin to sauté the sausage, breaking it up as it cooks. Take care not to break it up too much – you want to have bites of sausage throughout the stuffing.
5. Add the onion and garlic and cook over medium high heat for about 10 minutes to soften onion and release the sugars. Add the wine to deglaze the pan.
6. Now add the zucchini pulp and cook for another couple of minutes, stirring the mixture occasionally so that it doesn't brown too much–keep the heat medium high.  You may need to add olive oil to keep mixture from sticking.  Add salt sparingly at this point.
7. Add the apple, mushrooms, raisins without the soaking liquid and continue to cook on medium high heat for about 2 to 3 minutes more, stirring occasionally to prevent sticking.
8. Turn off the heat. Add bread crumbs, parsley, chopped basil and Romano cheese to the mixture.  Salt and pepper to taste.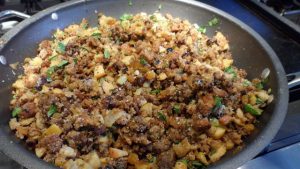 9. Pre-heat oven to 350 degrees.
10. Now stuff the zucchini shells, mounding them high with the mixture and top with just a little more Romano cheese.  Coarsely grate just a little of your favorite cheese on top. Place pieces of julienne fresh basil leaves on top.  See top photo.
11. If you are using smaller zucchini, they should bake in 30 to 40 minutes. If using a giant zucchini (like mine!), you will need to bake for 45 minutes to an hour until the stuffing is heated through and the zucchini is cooked.
This sounds like way more work than it is!  It is scrumptious~ enjoy!!
By the way, if you have any leftover stuffing, just put a bone-in chicken breast over it and bake it!
Yum