Serve this easy to make, delicious chili with a tossed green salad,
 some crusty Italian bread, or warm Sour Dough Boule
and you've got a warming and healthful treat!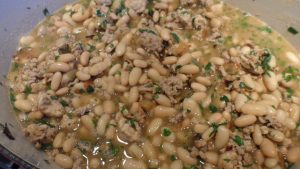 Dee's White Bean Turkey Chili
What you'll need:
Olive oil for frying
2 large onions, cut into medium chunks (don't skimp on the onions)
8 garlic cloves, coarsely chopped
2 pounds of ground turkey (white meat preferred)
1 Serrano chili, halved or quartered (or more to taste)
1 Jalapeno chili, halved or quartered
½ cup good dry white wine (optional)
4 sprigs fresh tarragon, leaves only, coarsely chopped
3 Tablespoons fresh lemon thyme leaves, finely chopped
4 Tablespoons fresh lemon oregano or fresh Greek oregano, coarsely chopped
NOTE: If no lemon oregano or lemon thyme available, grate 1 Tablespoon of lemon zest into the chili, but also add fresh regular thyme and oregano as specified.
Large handful (about ½ cup) fresh Italian parsley, coarsely chopped
2 Tablespoons fresh chopped dill (optional)
10 basil leaves, coarsely chopped
4 cans (8 oz.) Cannellini (white kidney) beans including juice
Salt to taste
Freshly ground pepper, to taste
Steps:
In a large, heavy pot or Dutch oven, heat olive oil and sauté onion until golden and it begins to release its sugars. Add garlic and cook for a couple of minutes.  Add the chilies.  (Keep the chilies large for easy removal later, if desired). If you are squeamish about heat, just put one chili in).
Add turkey and chicken and cook until meat begins to crumble, breaking up into large chunks, not too small or it will become grainy. You want a bite of meat once in awhile, not little annoying particles!
Pour in the wine and let it cook for a minute or so to evaporate the alcohol.
Add the beans, juice and all as well as the chopped herbs and let it come to the boil.  Taste for salt and add to your liking. Grind lots of freshly ground pepper into the pot.
If you are using lemon zest, now is the time to add it.
Reduce the heat and let the mixture cook for about 30 to 45 minutes or so on a low simmer to blend the flavors.
You may want to add some more fresh herbs or spice it up a little more. It's up to you, but this is really simple and delicious~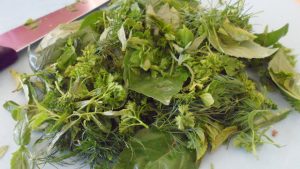 NOTE:  If it is just impossible to get the fresh herbs listed above, try using dried, but SPARINGLY.  The intensity of dried herbs can be overwhelming, so tread softly. I have never tried this using dried herbs, so can't recommend it. The flavor of this chili pretty much comes from the combination of sweet versus savory fresh herbs used in the recipe.
By the way, the tarragon is essential!