This is actually a delicious, chunky sauce that you can serve over pasta, chicken or fish. I have also made lasagna with it and it was great! I invented it to use up a huge harvest of eggplant and other things I was growing in my garden this year.
Just a good all-around sauce!
Try to use organic ingredients whenever possible.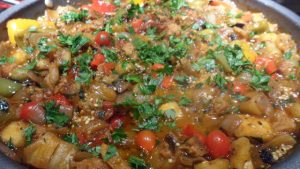 Dee's Organic Eggplant Smash
What you'll need:
8 large organic vine ripened Heirloom tomatoes, very ripe (use a lot of yellow ones, mixed with green striped and a couple of burgundy and red ones for the sweetest flavors)
1 large or 2 medium eggplant (use several if you are choosing Japanese eggplant), peeled and cut into 2 inch chunks. You want about 3 cups of eggplant chunks.
2 large sweet onions cut into 1-2 inch chunks
12 to 16 large garlic cloves (or to taste–I like it garlicky), coarsely chopped
About 1/2 cup fresh basil leaves, sliced Julienne
½  cup coarsely chopped Italian parsley
8 oz. sun dried tomato slices in olive oil, Julienne (can be found at Trader Joes)
1-2 slices good quality coarse white bread (organic ingredients—wheat, water, yeast)
Extra Virgin olive oil, 1 to 2 Tablespoons (plus extra for drizzling if you are so inclined)
Salt and pepper
NOTE: If you don't have fresh tomatoes, you can use 2 cans drained San Marzano or Di Napoli whole tomatoes (good quality, sweet variety) mixed with 1 cup cherry, grape, or other sweet variety fresh tomatoes
Steps:
Add sweet onion chunks to heated olive oil in a large sauté pan, heavy Dutch oven or wok.  Let onion cook over medium high heat to a golden color and add your garlic. (Don't be shy about the onions and garlic; when the cook, they will become a sweet, integral part of the sauce).
Add the eggplant. Salt and pepper the ingredients. Sauté until the eggplant begins to soften.
If using canned tomatoes, dice them and add to the pot. Halve the cherry tomatoes and add them also. Do not add the juice from the canned tomatoes.
If you are using fresh tomatoes, chop them coarsely. Save the juice the tomatoes and their juice to the pan.
Add about ½ of the julienne basil (1/4 cup) and a handful of parsley. You will be saving the remainder to add at the end, just before serving.
Drain then add the sun-dried tomatoes (not the oil). If they are not julienne, slice them up before adding.
Taste for salt and pepper and add more if needed.
Cover and cook the sauce for about 3 hours at a very low temperature.  It will become very juicy.
At the end of the three hours, add 1 to 2 slices of torn white bread and break it up with the back of the spoon. It's OK if chunks of bread are in the sauce. This will thicken the sauce and give it a rich, creamy texture. Check again for salt and pepper and make any adjustments necessary. Continue to cook on slow heat either covered or uncovered for about another 30 minutes or so.
When you are almost ready to serve, add the remaining basil and parsley. Taste for salt and adjust the seasonings. Add another grind of fresh black pepper.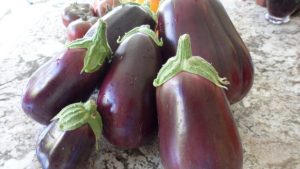 Enjoy!!