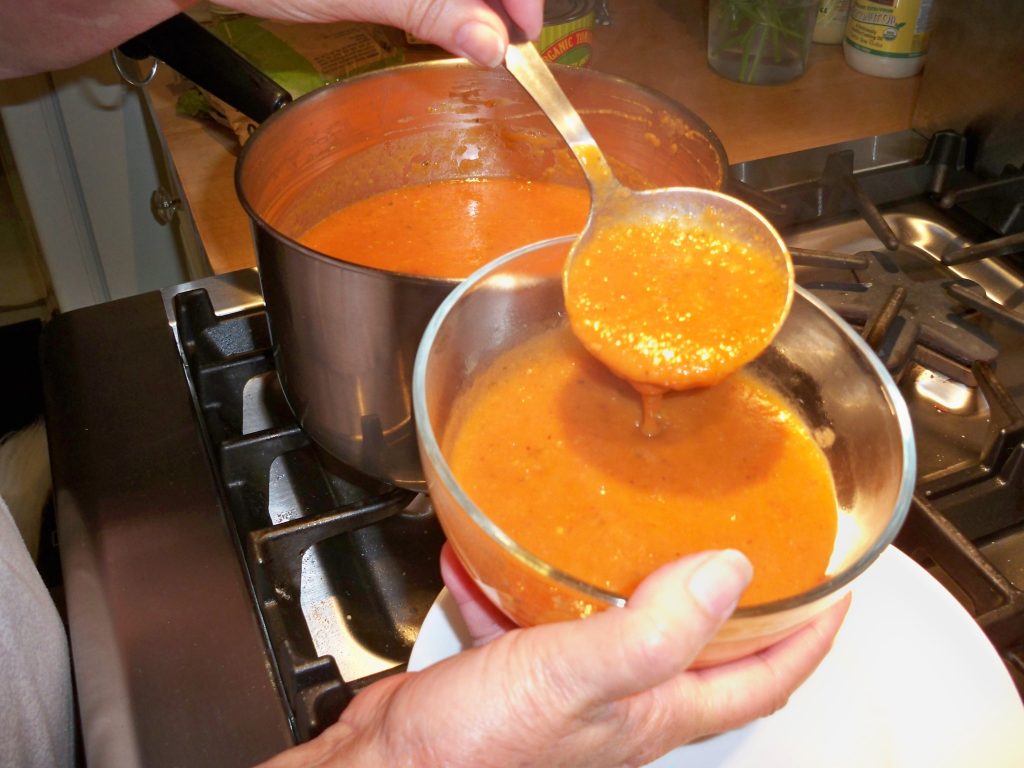 Try this warming and delicious creamy tomato soup
that you can make from scratch in under an hour AND it's dairy-free!
Dee's Creamy Tuscan Tomato Bread Soup
What you'll need:
4 One- inch-thick slices dry crusty peasant bread, cubed
1/4 cup extra virgin olive oil (don't skimp to save calories–you'll only skimp on flavor)
3 medium cloves fresh garlic, peeled and sliced
1 medium to large onion,  chopped
14 large basil leaves, washed well and cut in to narrow strips (chiffonade)
*see tips
1  3/4 lb.  (790 gms)  can good quality peeled diced tomatoes (Trader Joe's has a good one)
4 cups basic chicken or vegetable stock
2 teaspoons Kosher salt or to taste
Freshly ground pepper to taste
Good, rich extra virgin olive oil for drizzling and serving
Chiffonade of basil leaves for garnish
*NOTE: Whether canned or fresh, the quality of the tomatoes is very important. If fresh, tomatoes should be sweet and firm. It will take about 2 pounds of fresh tomatoes.
Steps:
Cube bread. If you have stale bread, you can use that. If not stale, heat oven to 225 degrees and put bread cubes in a dry pie pan or cookie sheet and place on the middle oven rack.  Bake 15 – 20 minutes or just until the bread is dry.  You don't want it brown or burned or this flavor will impart to your finished soup.
Heat oil in med saucepan over med heat. Add onion to hot oil and sweat the onion until limp, for about 5 to 6 minutes. You will need to stir it occasionally.  Add the garlic and cook for another 2 or 3 minutes.  Again, you don't want the onion or garlic brown; you want the flavor of the tomato to shine through!
Stir in the basil leaves and cook 1 minute more.  Stir in tomatoes along with the juice in the can and bring to a boil. Cook at a low boil for 20 minutes, covered but stirring occasionally to prevent the tomatoes from sticking.
4. Now, add the chicken stock, bread, salt and pepper.  Return to a boil, then lower heat and simmer, uncovered, for 15 minutes more, stirring and breaking up the bread with the back of the spoon.  The bread will break down and incorporate into the soup, thickening it.The soup can be eaten this way and it is delicious and very traditional.
5. If you want to take it one step further, which is the way I like it, either use a hand blender to blend the bread into soup, which will give it a creamy consistency or let the soup cool a little and put it into your blender.  Blend soup until it is the consistency you like it.
6. Let soup stand for about 5 min before serving. Drizzle with a little olive oil, freshly ground black pepper and garnish with  chiffonade of basil.
This soup makes a delightful light Italian meal when served with a salad of  frisee" (which is a mild bitter green related to the chicory family) and arugula, lightly dressed with olive oil, sea salt and a sprinkle of red wine or balsamic vinegar.
Enjoy one of my winter-time favorites!  Vivere, amare e mangiare bene!!