Healthy Meal, Italian Style!
Branzino is a Mediterannean seabass with delicate white flesh. It is best when grilled or roasted, as we have done in this recipe.  It is very easy to fillet at the table after cooking and is more flavorful when cooked whole.  When baked sealed  in parchment with fresh herbs and a little citrus, the incredible sweetness of the fish is allowed to steal the show!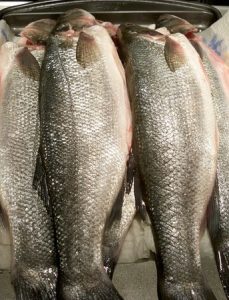 Always use ultra-fresh fish!
You can use grouper, sea bass or cod for this recipe.
Branzino in Parchment with Fennel, Citrus and Olives
What you'll need:
4 whole dressed Branzino (about 1 1/4 pounds each)
Extra Virgin olive oil for drizzling
4 whole garlic cloves
1 large or 2 small leeks
1 small fennel bulb
4 sprigs of fresh lemon thyme (DON'T USE DRIED–if you can't find fresh, omit it)
Dry white wine, drinking quality
Oil cured or kalamata olives, about 16
Fresh lemon, thinly sliced
Fresh orange, thinly sliced
Finishing salt and freshly ground black or white pepper
Equipment:  You will also need a large cookie sheet with rim large enough to accommodate packets as well as parchment paper or aluminum foil.
Steps:
1. Wash the fish and pat dry. Season inside of fish lightly with salt and pepper.
2. Wash your veggies; the leek tends to be very gritty and dirty, so trim off the ends and use only the white and light green parts.  Make a slit almost to the middle, down the entire length of the leek. Run cold water through the leek, opening the layers to be certain there is no dirt left inside. Also clean the fennel bulb by washing and removing the outer layers.
3. OK, now you are ready to start.  Begin by prepping all the veggies and assembling your ingredients: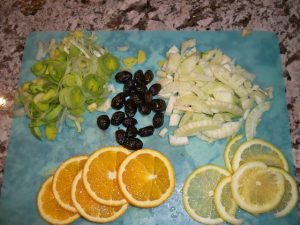 Thinly slice lemon and orange and set aside. You will want 1 to 2 slices each for each piece of fish.
Thinly slice the leek. You will be layering them under the fish.
Cut off the root end of the fennel as well as the fronds so that you have just the bulb. Cut the bulb in half lengthwise and slice the halves crosswise into thin slices.
Rinse your thyme sprig and set aside.
Peel garlic cloves and set aside
Have your olives near-by
4.  Prepare 4 pieces of parchment or aluminum foil large enough to double over fish (you will be making individual packets).
5.  Now, assemble your packets:
First, layer overlapping slices of leek and fennel in a row onto the upper third of the parchment about the length of the fish. Lay the fish on top of the veggies.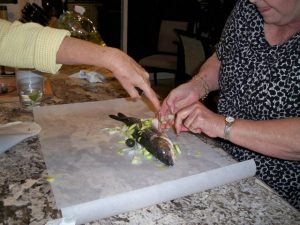 6.  On top of each piece of fish, place a thyme sprig and the orange and lemon slices, slightly overlapping. You will probably only need 2 or 3.  You just want the essence of both flavors. Place more fennel and leek on top of the orange/lemon slices.
7.  Place about 4 olives and 1 garlic clove in each packet.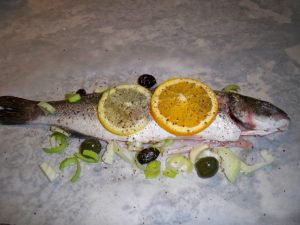 8. Drizzle with about 1 Tablespoon or so of white wine (Dee's rule: If you can't drink it, don't cook with it!) and just a tiny drizzle of olive oil.
9.  Now, it's time to seal in all those wonderful flavors!  If you are using parchment paper, fold the paper up and over the fish and veggies and put the folded side toward you.
10. Starting about 1 to 1 and 1/2 inches from the edge of the folded side, begin making small, triangular folds, one after the other and slightly overlapping, until you have completed the half circle.
Allow about 2 to 3 inches of space from the fish and veggies for steam, so that your packet can puff up a little.
If you are using aluminum foil, follow the same principle, just fold the aluminum underside over topside and squeeze together to seal completely.
11.  Place individual packets on a rimmed baking sheet large enough to accommodate them and bake in a pre-heated 400 degree oven for 20 to 25 minutes.
12.  When you are ready to serve, gently tear open the packets at the top, taking care not to burn yourself with the steam.  Remember!  The longer the fish is in the packet, the more it will cook.  Don't overcook your fish!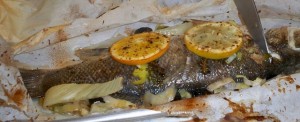 You may remove the head and tail for your guests or they may prefer to do it themselves. The bones are easily removed once the top half of the fish is eaten.  I have found the best way to eat the fish is to start on the top layer as the fish lies flat in front of you; once the middle is reached and the spine is revealed, it can easily be removed all in one piece and set aside.
If you prefer a more formal serving style, you can remove the head and tail, open the fish and remove the spine for your guests.  Then, individually plate the fish either with skin on or off, as you prefer.
You may want to have some finishing salt available for your guests to use, or you may find that it is seasoned well enough.
Any way you serve this, it is a mouth-watering delight. Enjoy this healthful and delicious treat for family or for a great dinner party!