Dee's Rice and Spinach Greek Salad
Serves 6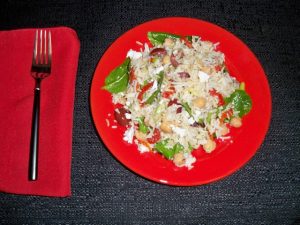 What you'll need:
4 cups cooked and cold basmati or your favorite rice
You can use white, brown, or combine the two
3 green onions, sliced diagonally about ¼ inch, including tops
1/3 cup softened sun dried tomatoes,  julienne
¾ to 1 cup garbanzo beans
¼ cup Kalamata Olives, pitted and halved
8 ounces rinsed and dried baby organic spinach leaves
4 ounces good quality Feta Cheese, cubed or crumbled
3 Tablespoons or so extra virgin olive oil
1 clove crushed garlic
Juice of about ½ lemon or more to taste
Flake Kosher or finishing salt and freshly ground pepper to taste
If available to you, optional additions include: fresh grape tomatoes, cucumber, freshly chopped dill leaves, garlic crisps (all added just before serving).
See below for how to make garlic crisps
1. Crush 1 garlic clove into your olive oil. Add juice of ½ lemon and about 1 teaspoon of
salt. Shake or whisk dressing to combine ingredients. You can adjust the seasoning
once in the salad.
2. If using sun-dried tomatoes in olive oil, blot excess oil from the slices before using.
3. Combine cold cooked rice, sun-dried tomatoes, green onion, garbanzo beans and
kalamata olives in a large serving  bowl.
4. Pour olive oil mixture over the salad and mix together either with your very clean
hands or if you wish, a large spoon, making sure to coat all of the rice with the
dressing.
5. Grind as much pepper as you like over the salad and mix together again.
6. Lastly, add the spinach leaves and feta cheese along with any optional ingredients
(except garlic crisps, if using) and just mix to combine.
7. Taste and adjust flavors, adding salt or pepper, more lemon juice, etc. to your taste.
8. Sprinkle with garlic crisps and serve. You may want to add a little more feta cheese to
the top of individual salads if plating, and add another grind of pepper.
Peel and slice about 10 garlic cloves into approximately 1/8 inch slices. Sauté quickly in hot olive oil until just golden and drain on paper towels. Be ready to remove crisps with a slotted spoon. If they turn brown, they will be bitter. You just want them a nice golden color. Just leave the crisps on the paper towel until ready to use. If you cover them, they lose their crispiness! Sprinkle them with a little finishing salt and sprinkle over your salad just before serving.