Try my lighter version of Bleu Cheese dressing using your favorite bleu!
This dressing trims calories to about 40 for a 2 Tablespoon serving with 3 Grams of fat!
KEY:  Freeze the cheese!!!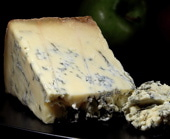 Dee's Creamy Bleu Cheese Dressing
This is amazingly easy and amazingly delicious!
The fat grams have been reduced significantly from regular bleu cheese dressings you may have tried but not the flavor!
What you'll need:
1/3 cup olive oil mayonnaise (You can use low fat mayo, if you like it – I'm not a fan)
1/3 cup non-fat or low fat buttermilk
1/3 cup non-fat plain Greek yogurt
1 to 1 1/2  Tablespoons tarragon vinegar or champagne vinegar
1 teaspoon Dijon mustard
1 teaspoon Lee and Perrins Worcestershire sauce (optional)
½ teaspoon salt
White pepper to taste
Your favorite bleu cheese, FROZEN, such as Roquefort, gorgonzola, or your favorite bleu
Steps:
In a medium glass bowl, whisk mayo, yogurt, buttermilk, mustard, vinegar, Worcestershire sauce, salt and white pepper together until smooth.
Begin grating frozen cheese into the mayo-yogurt mixture using a medium-hole grater.
Incorporate the cheese in increments by whisking in a little of the grated cheese at a time.

Taste and adjust

for the cheese intensity you like.
I have found that by using about ¼ of a 6 oz. wedge of Roquefort or Gorgonzola, I have the intensity I like.
You can then break off just a few little chunks to add to the finished product for a chunkier dressing.
Try my dressing on mixed green salads that you have added chopped apple, dried tart cherries and walnuts  to; it's a great treat for your palate!
~ ENJOY~