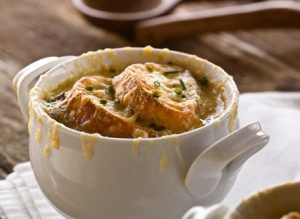 I created this recipe about 35 years ago. I adapted it from an old "Hippie" cookbook I found while with one of my husbands when living in Fort Collins, Colorado.
It was so cold there I had to come up with something to keep us warm!
You will need four soup crocks for this recipe or oven-proof bowls of some kind.
This is one of the best French onion soup recipes I have ever tasted!
Dee's Baked French Onion Soup au Gratin
A classic!
Serves 4
What you'll need:
3 good-sized yellow or white onions, sliced
2 Tablespoons butter
2 Tablespoons good quality olive oil
4 cups rich beef stock (homemade is best)
NOTE:  If your beef stock lacks depth, add a Tablespoon or so of a good quality beef concentrate or demi-glace.  You need a rich, beefy taste here.
1/2 cup dry white wine
*Remember, if you wouldn't drink it, don't cook with it!
1/4 cup dry sherry, also good quality
1 teaspoon Worcestershire sauce
2 cloves garlic, crushed or minced
1 cup shredded cheeses in equal measures: Havarti, Gruyere, Swiss, good quality Monterrey Jack.
Handful of good quality Romano or Parmesano Reggiano
Thinly sliced quality French bread (baguette works well), toasted
*Dry toasted bread works well for this recipe. This can be done in the oven by baking for 10 minutes in a 400 degree oven or in a toaster oven.
Steps:
Sauté onions in butter and olive oil until limp, golden and buttery, about 0 minutes. The olive oil helps keep the butter from browning too quickly.
Mix in beef broth, beef concentrate if using, wine and sherry, Worcestershire sauce and garlic.  Heat through.  Taste for seasoning and adjust to your personal taste. You may find you like a little more wine or sherry, or that the broth needs a little more beefy taste.
Ladle the soup into 4 ovenproof bowls, distributing the onions as evenly as possible. Don't overfill the bowls, there's more to add.
Sprinkle a little of the Romano or Parmesan cheese directly over the soup.
Now top each soup serving with slices of toasted bread (cover the soup).
Sprinkle mixed cheeses evenly over the top of each soup and sprinkle with a little more Romano or Parmesan  (just a little).
Put soup bowls onto a cookie sheet (it might boil over). Bake in a 400 degree oven for about 35 to 40 minutes or until the entire top is puffy and golden.
When you are ready to eat, use the back of your spoon to push down the topping into the soup.  Be careful!  It will be hot, but Oh! So good!!