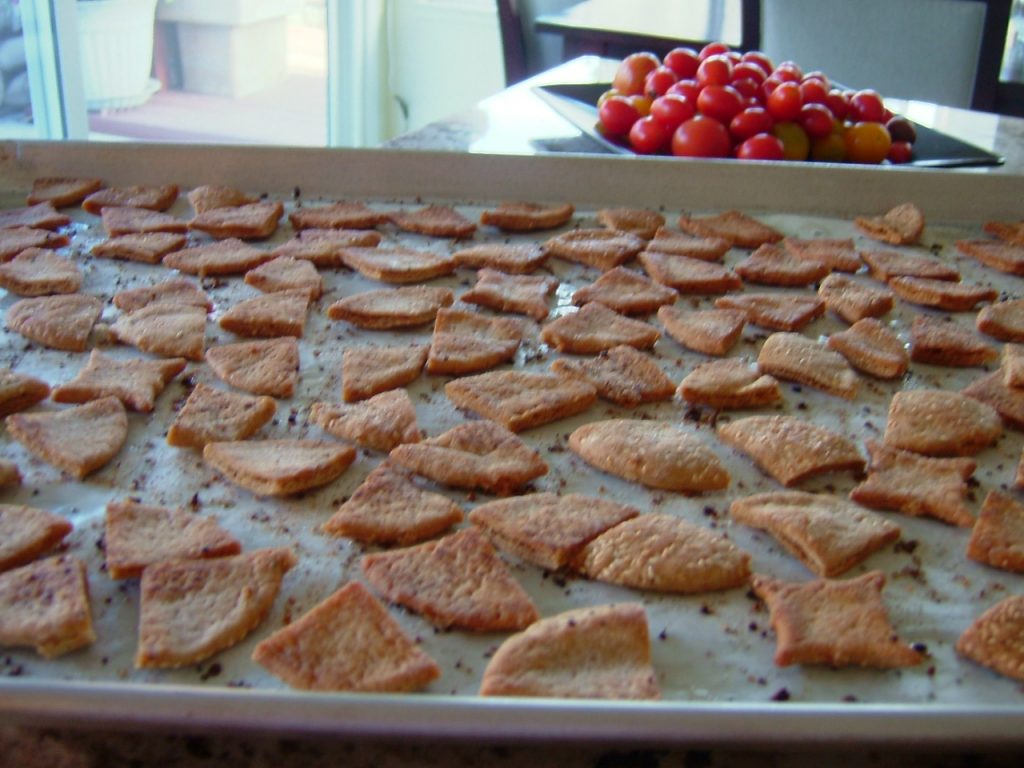 Dee's baked pita chips are a party favorite. Serve with Dee's Amazing Tzatzeki Cucumber Dip or Dee's Winter Greek Salad , hummus, ceviche or other creative dip.
These pita chips not dripping with oil and are loaded with flavor and crunch They take about 45 minutes to prepare.
Baked Pita Chips
What you'll need:
36 whole wheat or white pitas
Extra virgin olive oil to drizzle, 1/4 to 1/2 cup
Garlic salt, lemon salt/pepper blend OR
Salt-free herb blend of your choice
Steps:
Preheat oven to 400 degrees
Cut pitas into bite-sized triangles. If using the 3-inch pitas, cut in half and half again to make quarters. If using larger pitas, cut into eighths.
Arrange pita triangles in a single layer on a large baking sheet such as a cookie sheet. You may want to line it with parchment or aluminum foil to decrease clean-up.
Drizzle a small amount of olive oil over the pitas , no more than 2 Tablespoons if watching fat grams and calories or more if you like.
Sprinkle cut and oiled triangles  with either the garlic salt, lemon salt/pepper blend or salt-free herb blend in amount desired.
Bake on the middle rack of your oven at 400 degrees for about 10 minutes. Remove the pitas from the oven and turn each piece over so that the other side bakes. This way, they will bake more uniformly and be crispy all over!
Return them to the oven and bake for another 8 to 10 minutes. Keep an eye on them. You don't want them too brown, just nicely golden and crisp. You may need a little more or less time, according to your oven. You will find that the whole wheat pitas crisp up more quickly.
Please note that if you are using thin pitas, you will need to adjust the baking time.
Remove from the oven and from the pan so that they don't continue to cook from the heat of the pan.  Spread out on the counter or a table to cool. When cooled completely, you can put them in a baggie for storage. I keep mine in the refrigerator and they last a long time!
Per serving size of 8 whole wheat chips (according to the type of pita you use—read the label!), you will have approximately 70 calories, 1.5 G fat, 0 cholesterol and 2 Grams fiber.