This soup is unique, delicious and healthful!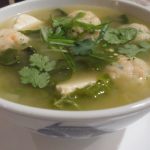 Dee's Shrimp Dumpling Chicken Soup
Serves 6
As any self-respecting parent knows, chicken soup is also known as Italian (or any ethnicity you choose!) Penicillin, but when you add fresh ginger to it, "healing" takes on a whole new meaning.  Ginger is said to have anti-inflammatory qualities, which means that it will reduce the stuffiness associated with colds.  Ginger also soothes the stomach and has been credited with killing viruses.  So, I created this recipe to help soothe a cold and satisfy my taste buds at the same time!
 This is a delicious way to take your medicine!
From start to finish this soup only takes about 1 hour to prepare!
What you'll need:
For the soup:
6 cups chicken broth (store-bought organic or homemade)
3 to 4 cups water
2 Tablespoons fish sauce (nam pla or nuoc mam)
1 two-inch piece of ginger, diced (add more if you like it spicy)
2 leeks, well cleaned and coarsely chopped, white and pale green only
1 lb. any type mushrooms, sliced  (optional)
1 lb. Swiss Chard, cut into 1 inch ribbons
OR 1 package or bunch of whole leaf baby spinach
1 package organic sprouted tofu or regular tofu, cut into 1-inch squares
Chives or green onion slices and cilantro leaves for garnish
Thai peppers, thinly sliced for garnish (if you dare!)
Salt and freshly ground pepper to taste
For the dumplings:
1 lb. Shelled and de-veined uncooked shrimp
2 teaspoons turbinated sugar that you grind to a powder in the food processor
½ teaspoon baking powder
1 teaspoon cornstarch
1 Tablespoon finely chopped cilantro
1 finely chopped scallion (green onion)
1 teaspoon of lard (really people, 1 teaspoon of lard isn't going to kill you) or finely chopped fried pork fatback
Salt (a good pinch or about ¼ teaspoon) and a healthy grind of pepper
Steps:
1. Make the shrimp dumplings. Put the shrimp into a food processor and pulse until ground but not mushy. Add remaining ingredients and pulse a couple of more times just to combine the ingredients.  Mixture will be sticky.
2. Wet your hands with water and make small balls about ½ Tablespoon in size.  Put them all on a plate and refrigerate until ready to add them to the soup.
3. Now make the soup by pouring the chicken stock into a large soup pot. Add the water and fish sauce.
4. Add leek and ginger and bring to boil. Turn heat to moderate and let it boil gently for about 5 minutes.
NOTE: Each time you add something to the pot, the temperature of the liquid will drop. Watch the flame/heat.  You may have to adjust just to keep it at a slow simmering boil.
5. Add mushrooms and simmer for another 3 minutes.
6. If you are using Swiss Chard, stir into soup and simmer for another 3 minutes until cooked and soft but not mushy.
7. Now, add the shrimp balls gently, one at a time.
8. Add tofu and if using Spinach, add it now.
9. Let soup cook gently (about 5 minutes more) until shrimp balls turn pink, then turn off the pot and let it set for another 5 minutes or so before serving.  Don't overcook the shrimp or you will have little hard marbles!
10. Serve topped with green onion slices and cilantro leaves.  If you are really daring, sprinkle with a few thinly sliced Thai chilies.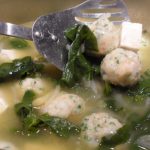 I hope you enjoy this, it is one of my favorite soups.