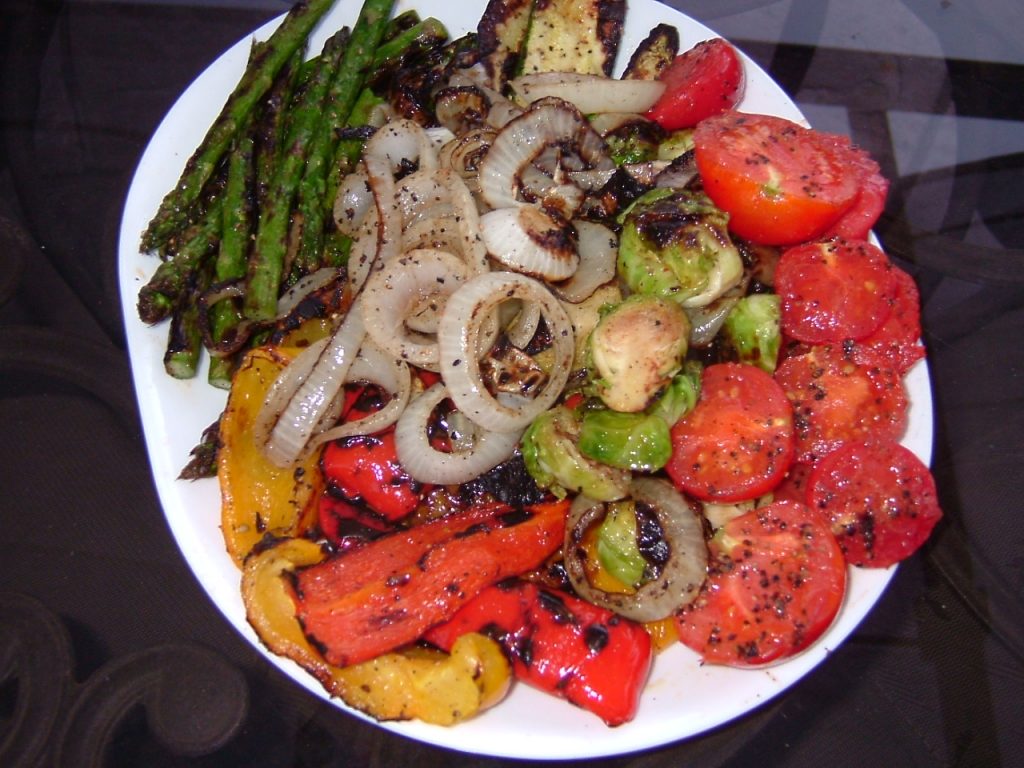 This recipe takes about 1 hour to prepare from start to finish.
It's a healthy and delicious family meal!
Creamy Rosemary-Parmesan Polenta  with Garlic Grilled Veggies
What you'll need:
For the polenta:
1 cup water
3 cups almond milk or cow's milk (I prefer the sweetness of almond milk)
One 3 to 4 inch sprig of fresh rosemary
2 Tablespoons butter
1 cup medium grind yellow cornmeal
1/2 cup grated Parmesano or Romano cheese or more to taste
Coarsely ground black pepper
Kosher sea salt to taste
Vegetables:
½ cup olive oil
3 cloves garlic, chopped
Coarsely ground black pepper and kosher sea salt
Vegetables of your choice, such as:
Red pepper
Onion
Zucchini
Radicchio
Asparagus
Steps:
To make the garlic-grilled vegetables, combine the oil, garlic, salt and pepper.
Brush the veggies with the garlic oil. Grill or broil for 2 to 3 minutes per side or until golden.
To make the polenta, set aside ½ cup of the milk.
Add the remaining 2 ½ cups milk and 1 cup of water along with the rosemary sprig to a saucepan and bring to a boil.
Just before you are ready to add the cornmeal to the pot, mix the dry polenta with the reserved milk in a small bowl.  This will prevent clumps from forming when you add it to the liquid.
Remove the pan from the heat and take out the rosemary sprig. Add the butter and whisk into the hot milk.
Now, slowly whisk in the polenta.
Return pot to low heat and stir until polenta is soft and creamy, about 20 to 30 minutes. You may need to add more milk to make the polenta the consistency you like.
Add the Parmesan, pepper and salt, stir through. Keep warm.
Serve veggies over top polenta. Sprinkle with Parmesan.
Great Italian comfort food for a cold night!
Buon Appetito!
** ** ** ** ** ** ** ** ** ** ** ** ** ** ** ** ** ** ** ** ** ** ** ** **
A little polenta lesson
Is it polenta or is it cornmeal?
Actually, polenta is considered the name of the dish and cornmeal is what you make it from!
You will find a variety of different cornmeals in the market such as white, yellow, red and blue, in fine, medium and coarse grinds.  Manufacturers package different types of cornmeal as "polenta" likely so they can charge more for this specialty item.
Typically, the yellow cornmeal in a medium or coarse grind works best for polenta. Medium grind will cook faster than coarse grind.
When you cook polenta, there are basically two consistencies: thick or creamy.  The one you choose depends on what you will be making with it. Creamy polenta, such as this one, can be used as a serving base or even as a morning porridge.
Use a longer cooking time and lower heat to produce creamy polenta.
Topped with maple syrup and a sprinkle of dried cherries, it's delicious. Of course, you will want to omit the rosemary sprig from this recipe if you use if for breakfast!.
Thick polenta will stay on the spoon without running off.  When cooled, it becomes solid enough to be cut into shapes.  It can be grilled and served as a side dish.