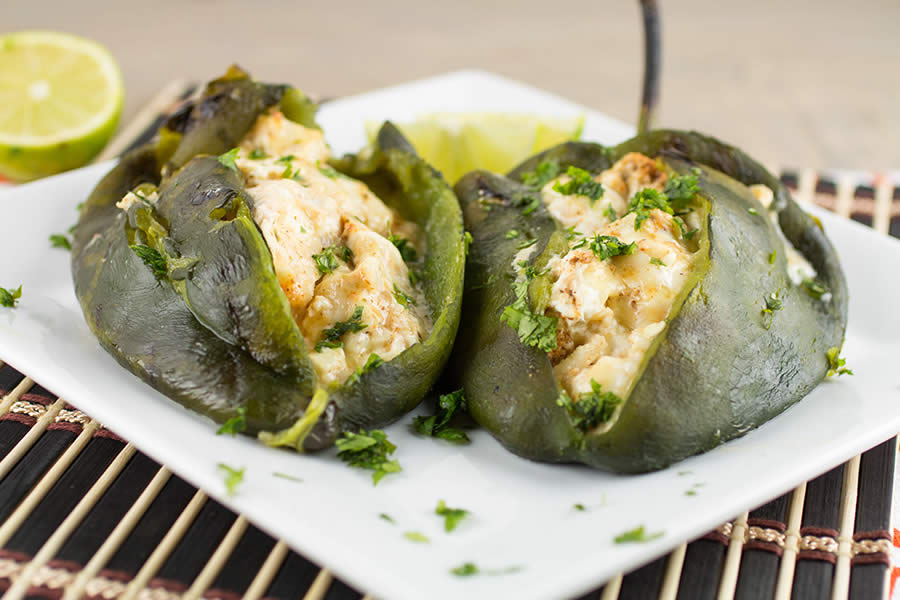 The most time-consuming part of this recipe is prepping the chilies.
The result is well worth the effort!
Be aware that the dark green poblano can range in flavor from mild to hot!
In this recipe, I've added a Dee-twist, stuffing the chiles with mashed potatoes and cheese.  Any combination of cheese that pleases you will do. I mixed a Mexican classic cheese with a zesty cheddar for this one, but feel free to experiment!
Grilled Chiles Poblanos Stuffed with Potato and Cheese
Serves 6
What you'll need:
6 fresh Poblano chiles
2 potatoes (about 1 pound)
1 to 2 cloves garlic, sliced
1/3 warm cup milk (approximate measure)
3 Tablespoons butter at room temperature
1 scant cup cream cheese
¾ cup sharp or medium cheddar cheese
¾ cup Cotija cheese (found in Mexican specialty markets)
Salt and pepper to taste
Fresh corn kernels for garnish
*May also serve with Poblano Cream (see recipe below)
Steps:
Make a slit down one side of each chile. With a small, sharp knife, cut a slit lengthwise from the stem end to within about 1 inch of the tip. Try to leave the stems intact.  Cut out the seed pods and rinse under cold water to remove the remaining seeds.
Place them on a hot grill or gas burner grill   and char the outsides, turning to ensure an even char. Place them into a large paper grocery bag and close the top. Leave them for about 10 minutes.
Take the chiles out of the bag and either wipe off the charred bits with a paper towel or run cold water over them to remove the char. Dry completely and set aside.
In a medium saucepan, cook the potatoes and garlic in water over medium heat until the potatoes are tender, about 10 minutes.
Mash the potatoes and garlic with the milk and butter. Add the cheeses and mix thoroughly. Season with salt and pepper to taste.
Refrigerate the potato mixture just to cool before stuffing chiles.
Stuff each chile with about ½ cup of the potato mixture and close to reshape.  You may need to seal with a toothpick.
Brush each chile with a small amount of olive oil and a little sprinkle of salt.
Place on a medium-hot grill until cheese melt and potatoes inside are hot, turning only once.
To plate, place chile on plate, drizzle with a little Poblano cream and sprinkle with fresh corn kernels if you like.
Roasted Poblano Cream
Makes 2 cups
What you'll need:
1 fresh Poblano chile, roasted or grilled, peeled, seeded and roughly chopped
1 cup milk
½ cup crème fraiche
Salt to taste, about 1 teaspoon
Steps:
Puree the roasted Poblano and milk in a blender or food processor until smooth.
Heat the mixture in a small saucepan over medium –low heat until reduced by about 1/3.
Gradually whisk in the crème fraiche and simmer until smooth and thickened, 2 to 3 more minutes.  Do not boil mixture or it will break.
Taste and season with salt.
Drizzle cream sauce over the prepared Potato Stuffed Chile
and serve with a tropical fruit salad or
Grilled Chipotle Corn on the Cob
Enjoy!!