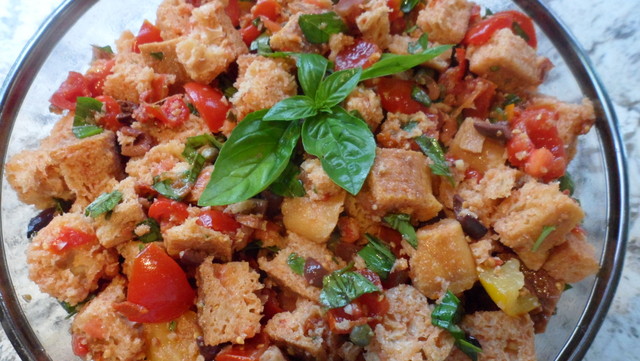 Dee's Panzanela
Italian Tomato and Bread Salad for 6
With summer tomatoes about to arrive, try this Italian comfort salad that is an easy-to-make show stopper!
What You'll Need:
6 large very ripe tomatoes (2 to 3 pounds)
12 ounces Ciabatta bread or Pan Rustique (firm country-style white bread), cubed
3/4 cup good quality extra-virgin olive oil plus more for drizzling
1/3 cup red wine vinegar
3 to 4 garlic cloves or more to taste, minced or pressed in a garlic press
2 teaspoons sea salt, plus more to taste
Coarsely ground black pepper to taste
½ cup thinly sliced fresh basil, plus whole sprigs for garnish
¼ cup capers, drained
1 cup jarred (drained) or fresh roasted red bell pepper strips
1/3 cup pitted Kalamata or Mediterranean olives, halved lengthwise
Fresh mozzarella (optional)
Steps:
Cut the tomatoes in half and squeeze out the seeds. If your tomatoes are home-grown and do not have an abundance of seeds, omit this step.
Cut tomatoes into 1-inch cubes.
Cut or tear the bread into 1-inch pieces.  Toast the bread in a 350 degree oven for about 20 to 30 minutes until bread is dry and a golden toasty brown. Let it cool.
NOTE:  You  need a firm bread that will not become mushy when dressed; choose bread that is a day or two old to start and then toast it nicely in the oven. This will keep your salad from becoming soupy.
In a large bowl, whisk oil and vinegar, the garlic, salt and pepper to blend.  Taste and adjust seasonings.
Add the bread cubes, tomatoes, and sliced basil, capers, olives and peppers and toss to combine.
Set aside until the bread absorbs the vinaigrette, tossing occasionally, about 5 minutes. If you are using Mozzarella, add it now.  Season the salad with more salt and pepper to taste.
Cover the salad and let stand at room temperature for the flavors to blend, at least 1 hour and up to 4 hours.
Drizzle the salad with a little more olive oil prior to serving. Add another grind of pepper and a little sprinkling of finishing salt, then garnish with fresh basil sprigs and serve this lovely salad.