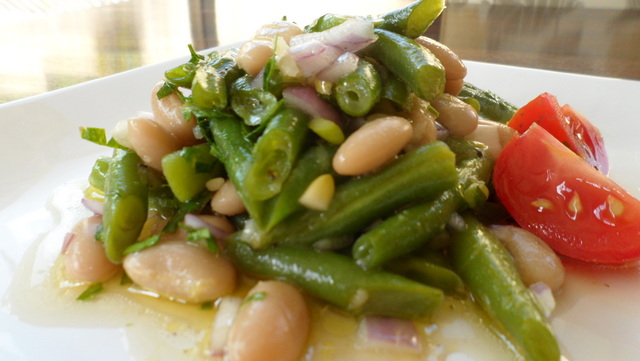 Lemon Maple Bean Salad
Refreshing and healthful!
Tired of the same old 3 bean salad dishes? Try this for a different and delicious twist!
What you'll need:
Salad
1 pound fresh green beans, stemmed and cut into 1 inch pieces
1 can cannellini beans, drained and rinsed
1 small red onion, chopped
Capers (optional), rinsed to diminish the briny taste
Small handful fresh Italian parsley, coarsely chopped
Dressing
4 Tablespoons fresh lemon juice
2 Tablespoons good quality maple syrup, or more to taste
2 cloves garlic, minced or pressed through a garlic press
Zest of 1 small lemon (approximately 1 Tablespoon)
3 to 4 Tablespoons extra virgin olive oil
Salt and freshly ground pepper to taste
Steps:
Cook green beans to your liking. Crisp tender is good for this recipe. I microwave them for about 4 minutes and let them cool.
Drain and rinse your cannellini beans (these are white kidney beans) and add them to the bowl along with the cooled green beans. Also add the chopped red onion and rinsed capers, if you are using them.
In a small bowl or shaker jar, combine the dressing ingredients. Either whisk or shake to thoroughly combine the dressing.
Taste and adjust the dressing before adding it to the salad. You may find that you like the dressing a little sweeter, so add more maple syrup.  If you like it more lemony, add more lemon.
Pour the dressing over the bean mixture and stir to combine.  Let the salad set for at least 2 hours to allow the flavors to combine.
Just prior to serving, add the parsley and another grind or two of freshly ground pepper.  HINT:  Ground mixed peppercorns (white, pink, black and green) are a great compliment to this salad!