Dee's  Salade Niçoise with Fresh Seared Tuna
Try this refreshing and fabulous summer salad to entertain friends and family.You won't be disappointed! The presentation is as beautiful as the salad is delicious!
Traditional Niçoise  salads use canned tuna in olive oil. I make my version with freshly grilled sushi grade tuna and available seasonal veggies.
Niçoise olives are from the French Rivera and can be found in specialty stores and even on some super market shelves. You can try other olives, but then it wouldn't be Niçoise salad, would it?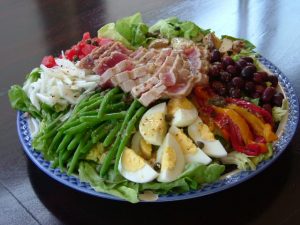 What you'll need:
6 to 8 cooked small waxy potatoes such as fingerlings, red or white creamers
1 medium sweet onion (Vidalia, Texas Sweet or red), julienne
½ pound cooked green or yellow beans (Can use Haricot Verts or Trader Joe's frozen)
4 Tablespoons Nicoise olives
2 large ripe tomatoes  or 2 cups of small sweet tomatoes, such as grape tomatoes
1 pound crisp cooked asparagus spears (optional)
Red and yellow roasted pepper strips
3 to 4 hard-cooked eggs, quartered lengthwise into wedges
¼ to 1/3 cup capers, rinsed and drained
Butter or limestone lettuce leaves (or mix the two)
2 to 3 sushi-quality tuna fillets, seared rare on grill or barbeque
Dressing:
1 Tablespoon minced shallots
2 teaspoons finely minced garlic
1 Tablespoon whole grain Dijon-style mustard
3-4 Tablespoons fresh lemon juice or to taste
3/4 cup very good quality extra virgin olive oil
Fleur d' Sel , Maldon Salt or Kosher flake salt to taste (finishing salt)
Freshly ground black pepper to taste
12 oz. screw-top glass jar
Steps:
1. Wash lettuce thoroughly and refrigerate to crisp.  You can roll it up in an absorbent towel and refrigerate until you are ready to use.
2. Attractively prep all the cooled veggies and set aside (see photo). Wedge potatoes and tomatoes if using whole tomatoes (I like Heirlooms). If using grape or pear tomatoes, use them whole. Leave green beans and asparagus spears whole, removing any tough ends on the asparagus.
NOTE: Julienne the sweet onion by cutting it in half between the stem and root end. Place one half cut side down and cut down the middle. Now begin making small slices on that quarter, top to bottom. You will have perfect julienne onion.
3. Slice the seared, cooled tuna on the diagonal.
NOTE: To sear the tuna, simply place seasoned tuna (salt and pepper) drizzled with a little olive oil in a hot pan or over a hot grill surface for no more than 1 minute each side, according to the thickness of the tuna. Your heating surface must be searing hot (thus the "sear" part!).  A panini grill works really well for this, but cut your cooking time to about 30 seconds since the fish is being cooked on two surfaces at once.
4. Prepare dressing.   Place all ingredients in a glass shaker jar and shake to blend. Let the dressing set for about an hour to allow the flavors to blend.  You can store this in the refrigerator for up to 1 week.
5. When you are ready to assemble the salad, place the greens in the bottom of a rimmed serving plate or large pasta bowl.  Begin arranging the prepared vegetables, including olives, in wedges or rows (see photo above) over the top of the salad. Arrange so that you have contrasting colors—potatoes, red and yellow peppers, green beans, white onion, etc. until you have completely covered the top of the lettuce.
6. Sprinkle with finishing salt and pepper to your liking. Arrange the tuna in the center (see photo) and sprinkle the capers all over the top of the salad.
7. Pour the desired amount of prepared salad dressing over the top and serve.  You may want to add a pinch more salt and a grind of pepper to the top just prior to serving.
Be sure to present the salad in this beautiful form to your guests. The salad, after presentation, can then be tossed and served.
Just imagine a throaty Julia Child saying: "BON APETIT!!