Lemony Grilled Vegetable Salad With Feta and Pine Nuts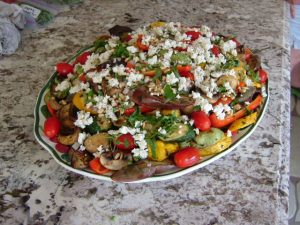 Perfect light salad for a lazy summer evening!
Add a few apple wood chips to the coals or grill during the last half of grilling time for a subtle smoky flavor.
What you'll need:
3 small slender eggplants (such as Japanese) or one large globe eggplant
2 sweet red peppers
3 zucchini
3 yellow summer squash
Large mushrooms, halved or thickly sliced
1 large Vidalia or other sweet onion
1 small red onion, chopped
Good quality Feta Cheese
Pine Nuts, toasted
Freshly chopped lemon oregano or regular oregano leaves
Fresh julienne basil leaves
Grated lemon rind
Marinade and Dressing
½ cup Olive Oil
1/3 cup lemon juice
4 Tablespoons fresh oregano, chopped
Handful of fresh julienne basil leaves
2-3 cloves garlic, crushed
Salt and freshly ground pepper to taste
Steps:
Prep the veggies:  Thoroughly wash all of the veggies.
Cut eggplant into diagonal ½ inch slices, leaving skin intact. If using globe eggplant, slice into ½ inch slices and cut each slice into thirds.
Cut red peppers in half and remove seeds. Slice into about 1 inch slices.
Likewise, diagonally slice the zucchini in about 1-inch slices.
Slice sweet onion into about ½ inch slices.
Peel and coarsely chop the red onion and set aside. This will not be cooked, but will be sprinkled on the cooked veggies.
Prepare the dressing by mixing all ingredients together in a shaker jar. Taste and adjust the seasonings. This dressing will serve as your marinade and dressing.
Put veggies into a baggie and pour half the marinade over the veggies. Set aside the remaining half.  Let macerate in refrigerator for 1 to 2 hours prior to cooking, rotating bag as often as you can.
While the veggies are soaking up all that delicious marinade, toast the pine nuts by spreading in a dry hot pan and tossing about until golden. Watch them! They burn easily!  Set aside and let the pine nuts cool.
When ready to grill, prepare and oil grill racks.  Remove the veggies from the refrigerator and bring up to room temperature.
Grill veggies over high heat (you can use a flatplate on the grill to prevent slippage into the coals!) for about 2 to 3 minutes each side. Cook longer if you want your veggies a little softer.  Add apple wood chips half way through cooking, if using.
Place cooked veggies attractively on a serving platter, overlapping and layering colors. Pour remaining dressing over salad. Sprinkle with freshly chopped red onion, oregano leaves, some julienne basil, pine nuts and crumbled Feta cheese.
Top with a sprinkle of Fleur de Sel or other good quality finishing salt and a coarse grind of black pepper. Sprinkle with finely grated lemon rind (microplane grater works well).
Can be served either warm, at room temperature or cold!  Enjoy!
BTW: These leftover veggies make great sandwiches. Just layer veggies on a slice of good quality sourdough or other firm bread, top with a piece of cheese of your choice (Havarti is good on these).  Top with another piece of bread and drizzle or brush both sides with olive oil.  Grill and flip or use Panini grill until cheese is melted and veggies are hot.