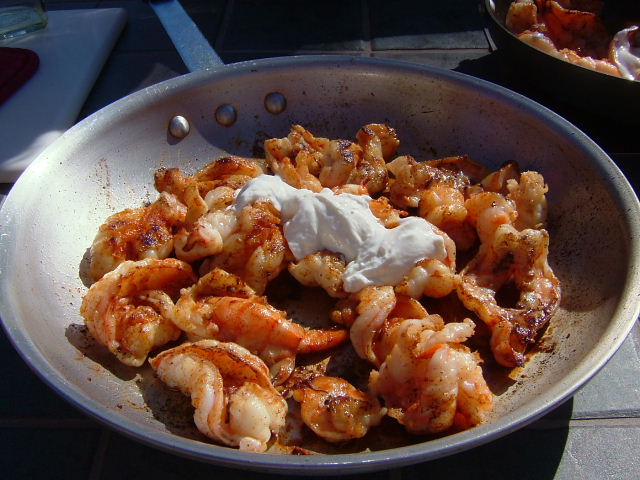 You won't believe how these simple ingredients blend together to make such an amazing shrimp dish!
Tia Rosa's Tequila Shrimp
What you'll need:
Olive oil and a little butter for frying
2 pounds large Tiger Shrimp or prawns, butterflied
Hot to mild-sweet Paprika (your choice), to taste
3 Tablespoons Low Fat or regular sour cream
1/4 cup (approximate) good quality tequila
Steps:
Heat small amount of butter and oil in a pan (about 2 teaspoons).
When butter begins to foam, Add butterflied shrimp (be sure they are dry when you add them to the pan) and cook over medium high flame until they begin to turn pink.
When you are ready to turn the shrimp over, sprinkle with paprika to taste, turn and continue to cook, adding more paprika to the other side of the shrimp.
When nearly done, remove from flame and add tequila. Flame the dish in a safe place by touching the sauce with a lighted match or long-handled lighter. It will light immediately, so be careful not to do this under your stove hood!
When flames subside, add sour cream and stir juices together to form a sauce. Serve with sauce drizzled over the shrimp.
Absolutely delicious!