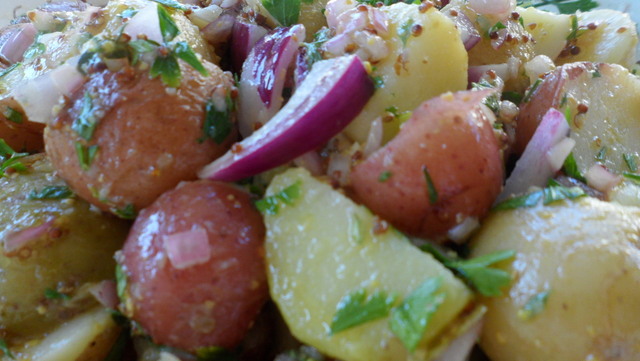 As things heat up and you plan your outdoor events,
potato salad usually enters the picture in one form or another.
Try this delightful salad that has no dairy to spoil in the hot sun!
This salad is best served warm or at room temperature.
French Potato Salad
Serves 6
What you'll need:
2 ½ pounds fingerling or small new potatoes, halved (quartered if large)
Kosher flake salt
White pepper
¼ cup olive oil
3 Tablespoons whole seed Dijon mustard
2 Tablespoons sherry vinegar
1 small shallot, minced (2 Tablespoons)
3 Tablespoons chopped fresh flat leaf parsley
1 teaspoon chopped fresh lemon thyme
¼ small red onion, half moon slices
Steps:
Place potatoes in a large pot; cover with cold water by 1 inch and season generously with salt. Bring to a boil; reduce to a simmer and cook until potatoes are tender, about 15 minutes. Run under cold water to cool slightly, then drain.
While the potatoes are cooking, whisk together oil, mustard, vinegar, shallot, and thyme in your serving bowl. Season with salt and pepper to taste.
Add warm potatoes, parsley and onion and toss to combine.
Let it set at rom temp for about 30 minutes to blend the flavors of the dressing and with the potatoes.
Serve at room temperature.
Can be refrigerated overnight, but warm to room temp to serve.