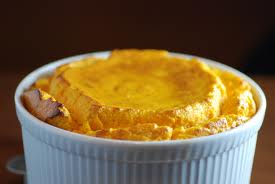 Carrots are loaded with vitamins and minerals and are among the healthiest foods we can eat.
Here is a delicious way to eat your carrots!
DEE'S CARROT SOUFFLE with CRISPY SAGE LEAVES
Serves 4 as a main dish
2 pounds carrots, peeled (7 or 8 large carrots)
2 cloves garlic
2 inch piece orange peel
¼ cup fat free Greek yogurt or unsalted sour cream
3 Tablespoons unbleached all-purpose flour
1 teaspoon baking powder
Sea salt and freshly ground white pepper to taste
1 whole egg
1 Tablespoon butter
1 to 2 Tablespoons pure maple syrup or to taste
2 teaspoons fresh grated orange peel
1 teaspoon fresh grated lemon peel
4 egg whites (bring to room temperature)
12 fresh sage leaves
Olive oil and butter
You can use a 1-quart soufflé dish, ring mold or if none of these are available, you can use a glass baking dish.  You will not get the same rise from the baking dish as in the soufflé dish, but the taste will still be just fabulous!
Steps:
Pre-heat your oven to 375 degrees and spray your baking dish with cooking spray. You can also coat with a thin film of butter, but that just adds more calories and fat. It's up to you.
Cut up your carrots into pieces. Cook them either in boiling water, steam them, or in the microwave with the orange peel and garlic until very tender. Steaming or microwaving will retain more of the vitamins.  You want the carrots tender but not mushy.
While the carrots are cooking, whip the egg whites until soft peaks form and set aside.
When the carrots are tender, put them in the bowl of a food processor (or use a hand blender and process until smooth).
Add maple syrup, melted butter, flour, baking powder, Greek yogurt or sour cream, 1 whole egg, salt and pepper.
Blend all the ingredients together and pour into a bowl.
Using a spatula, gently fold or lightly mix the egg whites into the carrot mixture.
Now spoon it into your soufflé dish or whatever you are using. Bake for 50 minutes at 375 degrees or until a little puffed and golden.
While the soufflé is baking, heat up equal parts of olive oil and butter in a frying pan. Quickly fry DRY, whole fresh sage leaves until crispy. These just take a minute.
When the soufflé is finished baking and you are ready to serve, crumble a few dried sage leaves and a tiny sprinkle of finishing salt over the top.
Serve with a simple butter lettuce or limestone lettuce salad.
You have just died and gone to heaven!