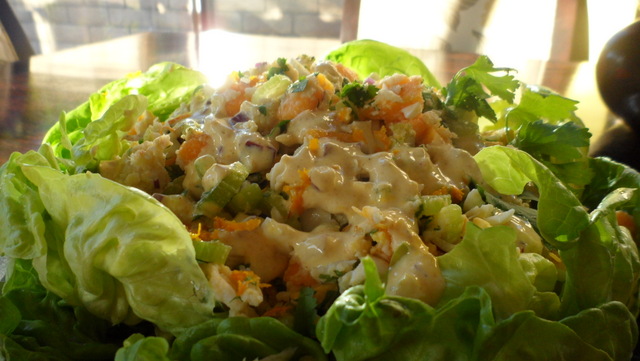 Curried Crab and Papaya Salad
Serves 4
An Original Dee Thing
What you'll need:
1 cup cooked crab meat
1 large or 2 small papayas, peeled, seeded and cubed
½ cup sliced celery
2 Tablespoons minced red onion
2 Tablespoons coarsely chopped cilantro
4 hard cooked eggs, coarsely chopped
1 small Serrano chili finely chopped (optional)
Butter lettuce leaves
Curry Yogurt Dressing
Avocados or small papayas for serving (optional)
For the dressing:
1 cup plain organic Greek yogurt (non-fat is fine)
3 to 4 Tablespoons Olive Oil Mayonnaise
3 Tablespoons minced onion
3 Tablespoons fresh orange juice
2 teaspoons (or to taste) finely grated orange zest
1 teaspoon grated lemon zest
1 teaspoon good quality curry powder
(Maharaja Curry Powder w/ saffron is very good)
½ teaspoon salt or to taste
Few drops Sriracha Sauce (to taste)
Steps:
Make the dressing by combining all the ingredients and stir well to combine. Refrigerate to blend flavors for at least an hour. Taste and adjust flavors to your liking.
Combine crabmeat, celery, onion, eggs, cilantro, chili and papaya and toss lightly.
Serve over lettuce leaves or inside a halved avocado papaya.