The  nutty sweetness of the roasted beets, crunch of crisp-tender asparagus and toasted almonds with the surprise of fresh pomegranate and raspberries will delight your palate!
This salad is best served as an entre' with a good crusty baguette!
Enjoy!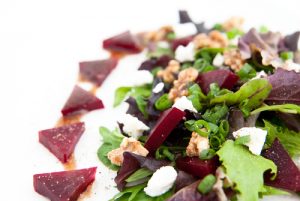 Dee's Grilled Asparagus & Roasted Beet Salad
w/Pomegranate, Toasted Almonds and Chevre'
What you'll need
Salad:
12 to 15 spears of fresh asparagus, grilled
10 to 12 medium fresh beets (if you can get different colors, do), roasted
*If you are pressed for time, you can use pre-cooked packaged beets
1 sweet onion, julienne
Leaves from 3 sprigs of tarragon, coarsely chopped
Mixed baby greens (mesclun mix which is a variety of mixed baby greens such as arugula, kale, radicchio, mustard greens and lettuces). The Amount will vary according to how many you are serving.
Fresh whole raspberries (optional)
Seeds from 1 whole pomegranate (available from Trader's packaged)
Slivered almonds, toasted
Chevre' goat cheese
Vinaigrette:
8  Tablespoons (1/2 cup) pomegranate vinegar
2 Tablespoons pomegranate molasses
2 small or 1 large clove garlic, crushed
½ teaspoon Dijon mustard, whole grain preferred
1 large sprig fresh tarragon
4 Tablespoons extra virgin olive oil
Finishing salt to taste
Coarse-grind freshly grated white pepper to taste
Steps:
Remove the tops from the beets. Place them on a lined baking sheet large enough to accommodate them so that they are not touching. In the center of the pan put a custard cup full of water. Cover with aluminum foil and roast at 350 degrees for 1 hour to 1 hour 15 minutes. The beets should "give" to the touch, but not be too soft. If you need to roast them longer, that's OK, just don't let them get too soft.

While the beets are roasting, cut the tough ends off the asparagus. Lightly drizzle with olive oil and sprinkle with a little salt.  Grill the asparagus until crisp-tender, about 3 minutes or so. (I use my panini grill.)  When cool, cut into 1½ to 2 inch slices. Set aside.
Make the vinaigrette by whisking the olive oil, crushed garlic, pomegranate vinegar, pomegranate molasses, whole grain Dijon and a little salt together in a small bowl or in a shaker jar. Add the large sprig of Tarragon. Adjust seasoning to your taste and set aside for at least 1 hour.
When the beets are done, let them cool a little, then peel and cut into bite-sized wedges. Place into a bowl.
Julienne a fresh sweet onion (such as Maui or Texas sweet). The way I do this is to cut the onion in half horizontally, cut that half in half lengthwise so that you have a quarter of the onion. Turn onion so the flat side is on the cutting surface. Begin thinly slicing onion so that you have little slivers or moon-shapes. Separate the layers. Add to beets.
Pour about 1/3 of the vinaigrette over the beets and onions and toss to coat. Set aside.
Rinse lettuces, dry thoroughly and crisp in refrigerator.
Remove the tarragon leaves from the stem and chop coarsely. Set aside. This will be added to the salad before serving.
Once everything is prepped and you are ready to serve, assemble the salad:
Choose a large oval shaped platter or plate individually if you prefer
Start by tossing the salad greens with another 1/3 of the vinaigrette and half of the chopped tarragon. Plate the greens.
On top of the greens, mound the beet-onion mixture; surround the beets with the asparagus pieces.
Sprinkle the entire salad with pomegranate seeds, toasted almond slivers and fresh raspberries (if using).
Drizzle the last 1/3 of the pomegranate vinaigrette over the salad
Garnish the top with the remaining chopped tarragon leaves
Add small dollops of Chevre' cheese decoratively to the salad.
Grind with a little white pepper