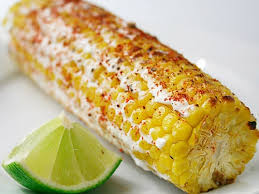 Cream-style corn on the cob
What you'll need:
For the topping:
6 oz. softened cream cheese
1 Tablespoon minced fresh cilantro
1 teaspoon minced or grated lime zest
½ teaspoon cayenne pepper
½ teaspoon ground cumin
Salt and black pepper to taste
Steps:
Combine cream cheese, cilantro, zest and cayenne for the topping in a bowl.  Season with salt and black pepper. Cover and chill.
Serve your cooked corn with cream cheese mixture spread over corn as desired.
Corn with Basil Butter
What you'll need:
½ stick softened butter
¼ cup chopped fresh basil leaves
Zest of one lemon
1 garlic clove, finely minced or pressed
Touch of salt
3 Tablespoons Parmesan
Freshly ground pepper
Steps:
Puree butter, basil, lemon zest, garlic and salt together.
Cook corn as desired.
Top cooked corn with basil butter and Parmesan, salt and pepper to taste.
Chipotle and Honey Corn on the Cob
What You'll Need:
2 canned chipotle chiles in adobo sauce
1/2 cup butter, melted
1/3 cup mild-flavored honey, such as clover
1 garlic clove, minced
1/2 teaspoon salt
Corn in husks
Steps:
1. Heat a charcoal or gas grill to medium-hot (you can hold your hand 1 to 2 in. above cooking grate only 3 to 4 seconds). Combine chiles, butter, honey, garlic, and salt in a blender and whirl until smooth.
2. Put unhusked corn on grill and cook, turning occasionally, 15 minutes. Husks will blacken. Transfer to a work surface, remove husks, brush ears generously with butter mixture, and return ears to grill. Grill until lightly browned, about 5 minutes. Serve warm, with remaining butter.
Here are some corn tips!
Begin by selecting the freshest, just ripe ears of your favorite variety of corn. Fully ripe sweet corn has bright green, moist husks. The silk should be moist.
As soon as the corn is picked, its sugar begins to convert to starch, which reduces the corn's natural sweetness. Corn will lose 25% or more of its sugar within 24 hours after harvesting. Fresh corn, if possible, should be cooked and served the day it is picked or purchased.
If you can't cook corn that is super fresh, try adding 1 teaspoon of sugar for each quart of water you use to cook your corn.
Many people simply overcook their corn, which makes it tough and starchy.
To boil corn on the cob, in a large pot, bring enough water to cover the corn to the boil. Add sugar if using. Never add salt to the water because it will toughen the corn! Once the water boils, add your corn and cover the pot.  As soon as the water begins to boil again, remove your corn!  It is cooked!!
Corn can be microwaved and it is delicious! Just put corn on the cob into a plastic zip baggie and sprinkle with water. Cook on high for 1½ minutes per ear. It is cooked!!
Corn can also be grilled. There are many theories about how to grill corn.
Simply put, if you grill the corn without the silk or husks, you may overcook it to get a char.
If you grill your corn with husks on, soak the corn in water for about 30 minutes before grilling if the corn is not freshly picked.
Fresh corn on the cob can be cooked on your barbeque either wrapped in aluminum foil or in its own husks. Corn in the husk makes for a dramatic presentation! All you need to do is put the un-husked corn on a hot grill, turning every few minutes for about 10 to 12 minutes. The corn will steam and have a rustic flavor from the grill.