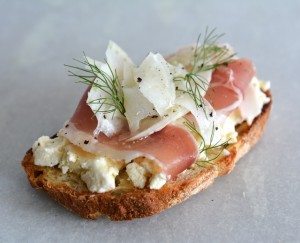 Delightful Summer Appetizer!
Try this easy but elegant appetizer to impress your friends and your own palate!
Crostini with Prosciutto, Fennel, Olives and Almonds
What you'll need:
½ cup whole raw almonds
1 large fennel head, fronds reserved for garnish
5 Tablespoons olive oil
1 Tablespoon fresh lemon juice
½ teaspoon salt
1 large baguette
¼ pound salt-cured olives (available at Whole Foods), pitted and thinly sliced
¼ pound prosciutto
Steps:
Place almonds in a dry pan and over medium high heat, toast them, tossing occasionally until almonds are golden brown and fragrant. Let cool.
Coarsely chop almonds and set aside.
Slice the cleaned fennel bulb in half. With the flat side down, cut into pieces about 1/16th inch thick.  If you have a mandolin, use it to slice the fennel so that it is uniform.
Mix the sliced fennel with 3 Tablespoons olive oil, lemon juice and salt. Set aside.
Slice baguette on a diagonal, into rounds about ½ inch thick. Brush with olive oil and grill until toasted.
Place a piece of prosciutto on each toasted bread slice. Top each with 1 Tablespoon of fennel mixture, 3 to 4 olive slices and sprinkle with chopped toasted almonds.
Drizzle with a little more olive oil and garnish with fennel fronds.