Roasted Sweet Potatoes
with
Rosemary and Thyme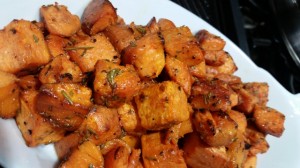 These potatoes are the perfect complement to a savory roast beef, lamb or pork.
or
Add Sweet Basil Haricort Verts  as another Entre and you have a great vegan meal.
What you'll need:
2 pounds sweet potatoes or yams peeled, cut into 1 inch chunks (Can be found pre-cut in the produce aisle at many stores)
3 Tablespoons olive oil
1 clove crushed or finely minced garlic
1 Tablespoon honey
Small handful (about 2 heaping Tablespoons) fresh finely chopped rosemary
1 Tablespoon fresh thyme leaves (I prefer lemon thyme)
Freshly ground pepper and salt to taste
PLEASE NOTE: It is important to use FRESH herbs for this recipe. The oils in the fresh rosemary and thyme will add an essence of flavor and natural sweetness that is not available in the dried versions.
Steps:
Preheat oven to 400.
In a small bowl, whisk together olive oil, garlic and honey. If you warm the honey in the microwave just a little, it will blend more easily. Set aside.
Combine sweet potatoes, rosemary and thyme in a large bowl and toss to coat potatoes with herbs. Sprinkle with salt and pepper.  Drizzle the olive oil and honey mixture over the potatoes and mix well to coat evenly. You may need to get your hands in there!
Spread potatoes evenly in one layer on a rimmed, aluminum or parchment-lined baking sheet .
Roast until tender, turning once ½ way through cooking. Bake for about 20-25 minutes in total or until the potatoes are golden and crisp in places.
If you find your potatoes are cooked, but not as golden as you would like them, just pop them under the broiler for a minute or two.
ENJOY!