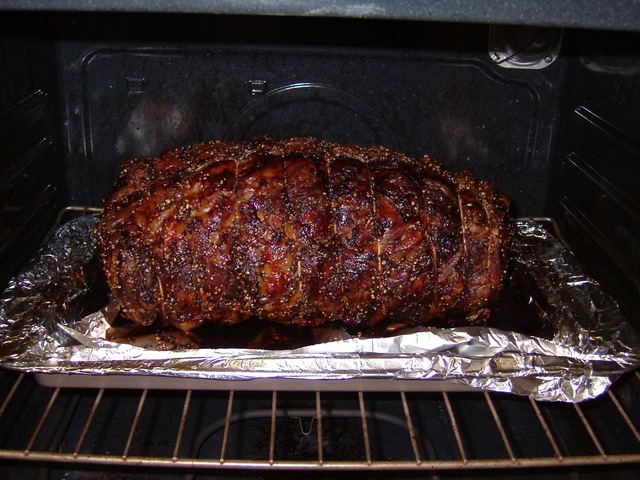 This is a fool-proof recipe for absolutely perfect prime rib or you favorite cut of beef.
I don't eat beef often, but when I do I want it to be off the charts,
so I developed this easy to prepare recipe.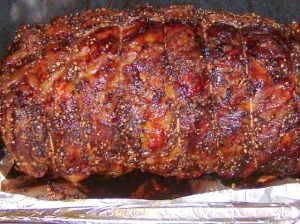 What you'll need:
5 to 6 pound Prime Rib of Beef or Rib Eye Roast – dry aged if you can get it
*If you prefer a less fatty cut of beef, you can choose a sirloin roast. You will give up the tenderness but cut down on the fat grams
¼ cup (or more according to size of beef) extra virgin olive oil
¼ to 1/3 cup (handful) of black peppercorns, crushed
12 garlic cloves, crushed
1 to 2 teaspoons sea salt
Steps:
Put a good handful of black peppercorns into a baggie that seals. Either hit with a wooden mallet or crush with a rolling pin to crush peppercorns but not pulverize them. You want chunks of pepper.
In a small bowl, pour about ½ cup good quality olive oil and add peppercorns, garlic and salt.  Mix together.
Place meat on a plate or in a bowl and pour oil mixture over it. Rub/massage mixture well into the meat and press in the peppercorns.
You can refrigerate meat for up to 24 hours (cover it tightly or your refrigerator will carry the essence of garlic for some time to come!)  or leave at room temperature for as little as 2 hours. The longer the meat and oil mixture macerate, the better the flavor of the meat.
If you have refrigerated your beef, bring to room temperature before roasting.
Preheat oven to 400 degrees. Do not cover meat. Place in a roasting pan large enough to allow room on all sides for good heat flow.

Cook at 400 degrees for 8 minutes per pound for rare, 9 minutes per pound for medium rare, and 10 minutes per pound for med well.

After initial cooking time, turn oven down to 200 degrees and roast for an additional 2 hours.
SO…..if you have a 6 pound roast and you want it medium rare, you will roast it for 54 minutes at 400 degrees. Turn down the oven to 200 degrees for 2 hours more.  The total cooking time will be 2 hours and 54 minutes! Trust me, it will be perfect!
Do not open oven door to peek! Cook for 2 additional hours no matter the size of the piece of meat; your initial cooking time has established the done-ness of the meat.
Take meat out and let it rest for at least 15 minutes before carving. Do not pierce meat with a fork!!! You will let all of the wonderful au jus out too soon.
Great served with Horseradish Cream Sauce