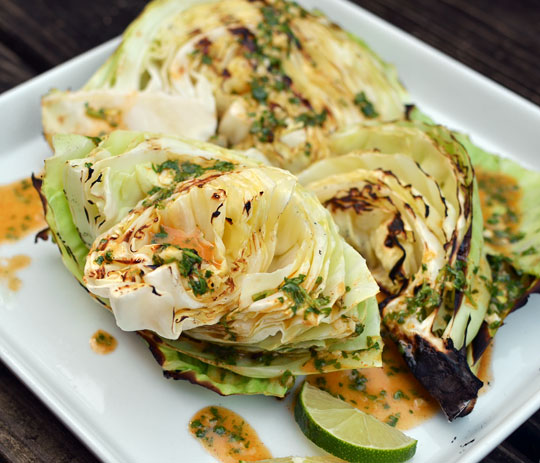 Something wonderful happens to cabbage when it is grilled or roasted—the flavor transforms from "cabbage-y" to sweet, mellow and nutty.  The tangy and slightly spicy dressing pulls it all together.
This has become one of my favorite salads.
Great for lunch with some crusty bread or as a beginning or side dish for dinner.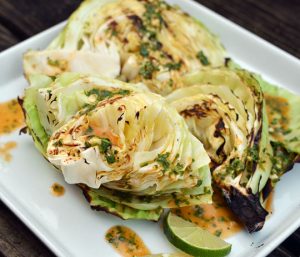 Grilled Cabbage Wedges w/Lime Cilantro Vinaigrette
Serves 4 to 6
What you'll need
For the dressing:
¼ cup fresh lime juice
Zest of 1 lime
¼ cup extra virgin olive oil
2 large cloves garlic, crushed
¼ cup cilantro, mostly leaves, coarsely chopped
½ teaspoon salt
½ teaspoon cayenne pepper
For the Salad:
1 large head fresh green cabbage
Extra virgin olive oil for drizzling
1 large clove garlic crushed into olive oil
Sea salt
Lime wedges for serving
Chopped chives or green onion tops for garnish
Steps:
For dressing:
Place all dressing ingredients in a blender and blend on high speed until the dressing is pale orange. Taste for salt and seasoning, adjust if necessary and set aside.
For the cabbage wedges:
1. Prepare coals or gas grill to medium high (400 degrees). If the width between grates is more than about ½ inch, you may want to use a grill plate. The grill plate is a flat heavy-duty pan with holes; this will prevent your cooked cabbage from falling through the grill rack, but still give you a nice char.
NOTE: If you do not want to grill the cabbage, you can bake it instead, however the grilling will make a much better salad adding grill lines and the crunch of the char.
2. While your grill is heating, wash the cabbage. Cut in half, then in quarters, then eighths, keeping wedges intact.
3. Drizzle with the olive oil in which you have crushed 1 large clove of garlic. Sprinkle with a little sea salt.
4. When grill is hot, place cabbage wedges on the hot grill plate. You will need to cook the cabbage for 7 to 9 minutes in total, carefully turning to cook both sides. Grill the cabbage until tender or crisp tender, according to your taste.
Be sure to get a nice char on the cabbage!
5. When the cabbage is cooked, plate directly onto serving plates and drizzle with dressing. To each plate, snip some fresh chives over the top and garnish with lime wedges.  Fantastic!