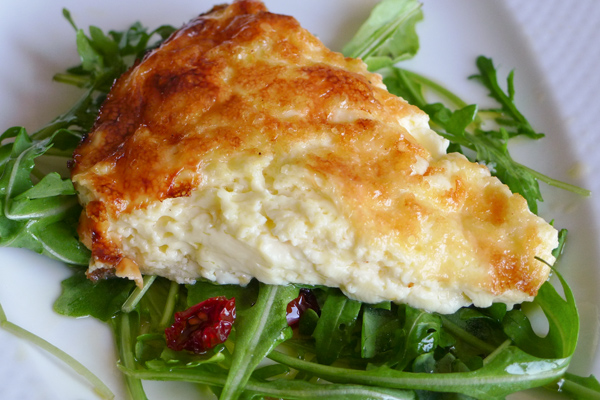 This recipe is simple and perfect!
Dee's Silky Cheese Quiche
Serves 4
What you'll need:
One single pie crust
6 large eggs
2/3 cup heavy cream or crème fraiche
1 cup whole milk
Pinch of flake salt
Pinch of white pepper
8 ounces grated Gruyere and Swiss cheeses combined
¼ teaspoon freshly grated nutmeg
Steps:
Preheat the oven to 425 degrees.
Roll out the pie dough and place into a 10 inch pie plate. Crimp the edges and poke the bottom with a fork. Line it with aluminum foil and pastry weights and blind bake in the lower third of the oven for 10 minutes. Remove from oven and remove the foil and pastry weights. Return to the oven and bake an additional 5  minutes or so  until the bottom is golden. Remove from oven and cool a bit.
While the crust is baking, whisk together the eggs, cream, milk, until thoroughly blended. Season with nutmeg, salt and pepper, then add the cheese and stir until it is blended.
Pour the mixture into the pre-baked and slightly cooled pastry. Be sure to spread the grated cheese evenly over the bottom.
Bake in the center of the oven until the filling is golden and puffed and is completely baked through, about 30 minutes. To test for doneness, shake the quiche. If it is solid without a pool of uncooked filling in the center, it is done.
Remove the quiche from the oven and serve immediately.