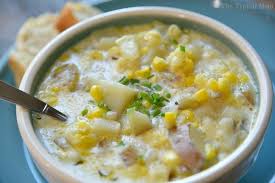 Dee's Corn and Crab Chowder in Spicy Coconut Broth
This is a satisfying treat for cool nights. You can make it as spicy or as sweet as you like.  If you don't like the taste of curry, simply use a seeded chile for  spicy flavor instead!
This chowder takes only about 30 minutes to prepare once all your ingredients are assembled.
Enjoy!
What you'll need:
3 ears fresh sweet corn, shucked
8 ounces freshly picked crab meat (or canned works just fine)
1 clove garlic, finely minced or pressed
1 large shallot, finely minced
3 cups full fat coconut milk
3 cups rich seafood or chicken stock
6 to 8 small Yukon Gold or Dutch white potatoes, halved or quartered to bite-size
1 to 3 Tablespoons curry paste (hot or mild, according to taste)
OR ½ Thai or Serrano chile, seeded (do not chop or mince)
Olive oil and butter for frying, about 1 Tablespoon
Salt and white pepper to taste
Fresh cilantro leaves
Steps:
Shuck and wash corn to remove all silk. Cut corn from cobs and save cobs. Set corn aside.
Pick crab and remove any shells or cartilage. Set aside.
Sauté shallot and garlic in olive oil and butter until shallots are translucent.
Pour in coconut milk and stock.  Add curry paste, if using and incorporate into broth mixture. Break corn cobs in half and add to broth.  Bring to a slow, rolling boil and cook for 10 minutes.
Add potatoes and chile (if not using curry) and cook until potatoes are soft, about 10 minutes more. When potatoes are cooked, remove corn cobs from soup and discard.
Add corn kernels and cook for 2 minutes.
Remove from heat and add crabmeat.  Season to taste with salt and freshly ground white pepper.
Ladle into soup bowls and serve topped with cilantro leaves.