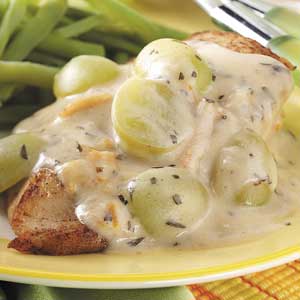 Chicken Veronique
Many years ago, I had a dear friend from France who took the time to teach me many techniques that she had learned from her Mother. I wrote her recipes on scraps of paper, napkins or whatever was available.
I now treasure these recipes and share them with you!
Enjoy and thank you, Madeline!
Chicken Veronique
What you'll need:
8 Chicken breast halves, skinned and boned
Salt to taste
2 Tablespoons butter
1 Tablespoon olive oil
2 Tablespoons Orange Marmalade
2 teaspoons dried tarragon leaves, crushed OR
2 Tablespoons fresh tarragon leaves, coarsely chopped
1/2 cup dry white wine
1/2 cup whipping cream
1 1/2 cups fresh seedless sweet green grapes
Steps:
1.   Sauté chicken breasts in melted butter and oil in a heated pan over medium heat until lightly golden brown. Take care not to overcook the chicken.
2.  Move breasts to the side of the pan and stir orange marmalade into the pan. Add tarragon and white wine.  Stir to mix.
3.   Bring to a boil, then reduce heat, cover and gently simmer for 8 to 10 minutes or until chicken is white in the thickest part.
4.  Transfer breasts to a serving dish and keep warm.
5.   Add whipping cream to pan juices and bring to a soft boil on medium heat, reducing the cream by about 1/4.
6.  Adjust the sauce, tasting for seasoning.  Add more salt if needed now and a grind or two of pepper.
7.   Add the grapes to the sauce and quickly return to the heat, swirling the grapes into the sauce.
8.  Pour over chicken at once and serve at once.