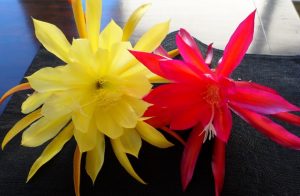 Pho Ga (pho is pronounced phuh) is Vietnamese chicken noodle soup and is a staple of Vietnamese cuisine and culture.
Vietnamese food is an absolute favorite of mine, with touches of grace from the fresh herbs and the haunting presence of flavorful spices!  There are notes of French cuisine mingled with the Asian flavors that are unquestionably habit-forming!  Since Vietnam was ruled by China for about 1000 years, no doubt that there are strong Chinese influences in the cuisine as well, such as the rice noodle, which is believed to be the Cantonese influence.
This is my version of a quick chicken pho, which takes about 45 minutes in total to prepare and serve.  The most time you will spend is in cleaning and prepping the herbs and toppings for your soup.  I have used lemon basil in this recipe, but purple basil or even Italian basil can be used as well.
ENJOY this fabulous soup!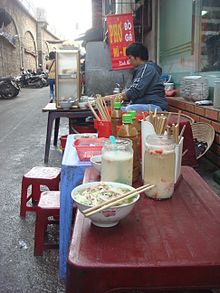 Vietnamese Pho Ga
or
Vietnamese Chicken Noodle Soup
What you'll need:
8 cups chicken stock (purchased or home made)
3 Tablespoons fish sauce
2 teaspoons brown or turbinado sugar
6 whole cloves
4 star anise
1 three-inch cinnamon stick, broken
1 three-inch piece fresh peeled ginger, halved
4 ounces uncooked wide rice stick noodles (banh pho)
Small amount of canola oil for the pan, if using
1 medium onion, peeled and halved, charred (see below)
¼ teaspoon salt
3 cups shredded cooked chicken meat, either dark or white*
2 cups fresh bean sprouts
1/3 cup thinly sliced green onions
Fresh basil, either Thai, Italian or lemon basil sprigs
Fresh cilantro sprigs
6 lime wedges
1 jalapeno pepper, seeded and thinly sliced
Hoisin sauce
Sriracha sauce (hot chili sauce AKA "Rooster Sauce")
*NOTE: If you want to make this soup super fast, just purchase a cooked chicken from your market and shred some of the meat. If you have a little more time, just poach boneless/skinless chicken breasts or thighs that are just covered with cold water. To the water, add 1 garlic clove and about 4 green onions (tops and all), torn apart. Cover the pan and bring to the boil;  turn off the heat. Leave covered for 30 minutes if cooking breasts and 45  minutes if cooking thighs, and you will have perfectly cooked chicken that is tender and juicy.  Salt the broth after you have cooked the chicken.  You can then add this delicate broth to your soup!
Steps:
Combine first 7 ingredients in a large stockpot over medium-high heat; bring to the boil. Reduce heat and simmer 30 minutes. Strain broth through a sieve into a large bowl; discard solids and return broth to pan and keep warm.
Soften or cook noodles according to package directions.
Now, char the onion to add to the soup. This will deepen the flavors of the soup by adding a caramel-y essence. This can be done in two different ways: Heat a

grill

pan over medium high heat. Coat pan with a thin layer of canola oil. Add onion and cook about 8 to 10 minutes or until charred on each side. Remove from heat, cool slightly. Slice onion thinly and add to broth.
OR, if you have a gas range or gas barbeque grill, put the onion over the direct flame as pictured below and char it, then let it cool slightly, slice onion thinly and add to soup.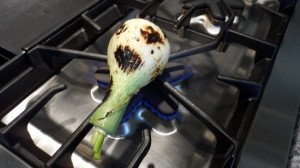 4.  The remainder of ingredients on the list including bean sprouts, basil, cilantro, jalapenos, sliced green onions and limes, are arranged on a plate and served at the table to allow the guest to place his or her own toppings.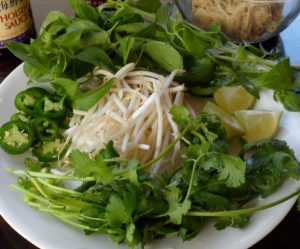 5.  To serve the soup, place a serving of noodles in the bottom of a soup bowl and top with a portion of shredded chicken.  Then ladle the delicious broth over the chicken and noodles and serve.  The diner chooses how much Hoisin sauce or Siracha (HOT) sauce to add to the soup and then tops with the herbs, sprouts, jalapenos and a squeeze of fresh lime juice.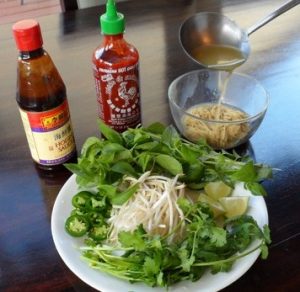 YUM
See? Now you're an international cook!!!
How easy was that! This entire meal is very low fat and calories as you can see:
Rice noodles = 45 calories and 0.5 G fat in 10 ounces
Chicken breast (boneless/skinless) 4 oz. = 120 calories and 3 G fat
Chicken broth  8 oz = 20 calories and 1 G fat
The herbs and sprouts are free calories!
Watch the amount of sauces you use. These are quite high in sodium.