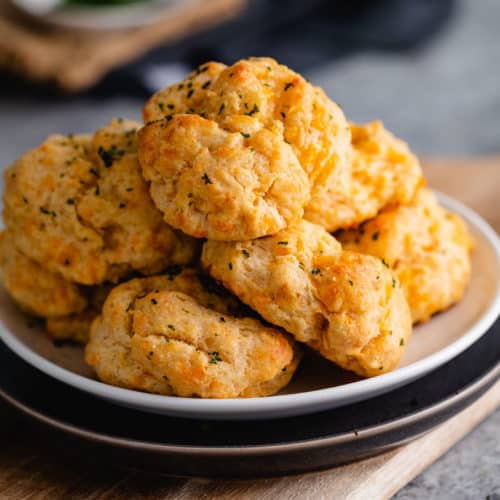 Dee's Decadent Cheddar Garlic Biscuits
Makes about 20 biscuits
What you'll need:
4 cups Bisquick biscuit mix
1 1/3 cups milk
1 cup shredded cheddar cheese
½ cup melted butter
¾ teaspoon garlic powder
Optional for brushing on biscuits:
Additional ¼ cup butter
¼ teaspoon garlic powder
Cooking spray
Steps:
Heat oven to 425 degrees.
In a large bowl, stir first 5 ingredients together until soft dough forms.
Spray a lined cookie sheet .
Drop dough by the spoonful, two inches apart onto cookie sheet until all dough is used to make 20 to 25 biscuits.
Bake 10 to 12 minutes or until biscuits are golden.
If serving right away, mix together melted ¼ cup butter and ¼ teaspoon garlic powder.
While biscuits are still warm, brush butter-garlic butter on biscuits. Serve at once.
If you are not using the butter-garlic mixture, you can store the biscuits for up to 2 days without refrigeration. After that, refrigerate. No worries, these won't last long!