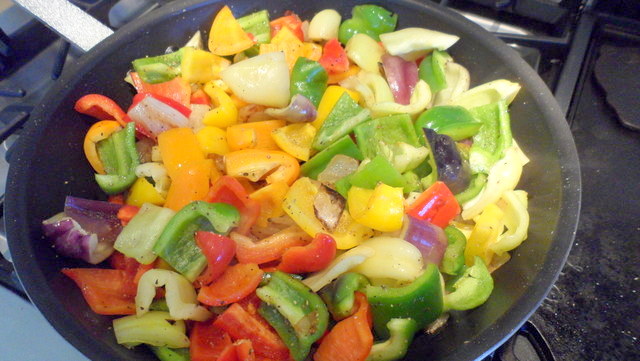 In this recipe, I have brought back the flavors of my childhood; sweet peppers grown in the garden beside succulent tomatoes, basil and fresh garlic.
Serve over your favorite pasta or use as a base for chicken caciatore.
Dee's Peperonata
What You'll Need:
12 assorted bell (sweet) peppers, seeded and cut into large cubes
1 to 2 hot peppers (Italian or jalapeno, Serrano, etc.) or to taste (optional)
2 medium or 1 large onion, cut into large cubes
4 to 6 cloves garlic, coarsely chopped
2 to 3 cups tomato puree or sauce (homemade if you have it)
Large handful (1/3 cup) of basil, coarsely chopped
2 Tablespoons chopped flat leaf parsley
Kosher flake salt to taste
Several grinds of coarse black pepper
Good quality extra virgin olive oil for cooking and drizzling
Steps:
Soften onion in olive oil for about 10 minutes until light golden in color.
Add coarsely chopped garlic and cook about 3 minutes more.
Add the peppers, both sweet and hot. Cook for 20 to 30 minutes until soft, stirring frequently.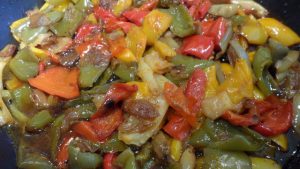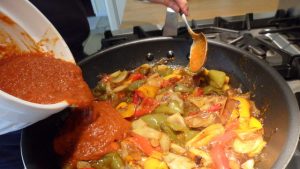 4. Add the tomato puree or sauce and cook on medium to low heat (just enough heat for a very slow boil) for 30 minutes, stirring occasionally.
6. Add basil and parsley, stir in and cook for another 10 minutes on low heat.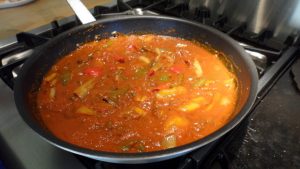 Serve over mini-penne pasta (my favorite with this sauce), orecchiette (little "ears"), or whatever pasta you prefer.
Mangia bene!!