I have tried many versions of this classic Thai dish, but this one is my favorite, so I thought I'd share it with you.  I love the contrast of the sweet pineapple and raisins with the salty fish sauce and the crunch of the cashews.  I use large fresh shrimp and rice that I have chilled in the fridge without a cover.
And remember!  A little oil in a hot wok goes a long way!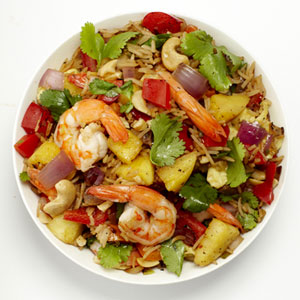 As with most stir fry recipes, your prep time takes the longest.  Gather and assemble all your ingredients. I use small paper plates for each ingredient to be stir-fried and place them beside me, along with the pre-measured sauce ingredients.
Pineapple, Shrimp and Cashew Fried  Rice
Serves 6
What you'll need:
½ pound extra-large shrimp, peeled and deveined or rock shrimp
Kosher salt
2 Tablespoons grape seed or other neutral oil, like canola
2 cups sweet onion slices (Texas sweet, Maui, orVidalia halved and thinly sliced)
1 large green onion, white and green parts, thinly sliced
1 large clove of minced garlic
2 Tablespoons good quality fish sauce or to taste
1 teaspoon chili-garlic sauce
3 cups cold (unsalted) cooked rice
*I combine ½ brown and ½ white Basmatti rice.  Jasmine rice can also be used
1 to 2 cups fresh pineapple, cut into bite-sized chunks
½ to ¾ cups whole cashews, toasted
¼ cup raisins
¼ cup low sodium soy sauce
1/3 cup fresh cilantro leaves (with extra for garnish)
Steps:
Pat the shrimp dry and season with a little salt.
Heat 1 Tablespoon oil in a wok (or large skillet) over medium high heat until shimmering but not smoking hot.
Add shrimp and cook quickly, flipping once, until pink and opaque, about 1 minute or so. (Don't overcook the shrimp!) Transfer to a plate.
Heat the remaining 1 Tablespoon oil in the same wok, keeping the heat medium-high. Add the onion and cook, tossing/stirring until browned on the edges but not completely soft, about 2 minutes.
Add the garlic, fish sauce and chili-garlic sauce and cook. Stirring until aromatic, about 30 seconds.
Add the cold rice and green onion. Stir to break up any rice clumps until the mixture is well combined and heated through, about 2 minutes more.
Stir in the shrimp and any accumulated juices, the pineapple, cashews, raisins and soy sauce.  Season to taste with more soy sauce or fish sauce.
Remove from the heat and stir in the cilantro leaves. Serve garnished with additional cilantro.