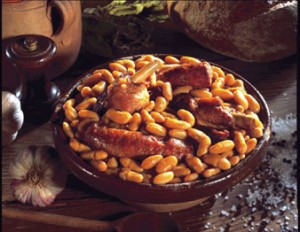 When you want comfort food and slow cooking, this is the one for you!
Crock Pot Cassoulet
The word cassoulet comes from cassole, the name of the glazed earthenware dish in which the cassoulet is traditionally cooked.  This is an Americanized version of this lovely French (Languedoc region) dish.
My recipe retains the flavors of the original, but is much simpler to prepare!
What you'll need:
One 2 ½ to 3 ½ pound spring chicken
1 small leek, thinly sliced
1 small onion, cut in chunks
2 cloves garlic, crushed
3 Tablespoons chopped fresh parsley
1 sprig of fresh thyme OR ¼ teaspoon dried
1 bay leaf
1 whole clove
½ teaspoon salt or to taste
Freshly ground pepper to taste
1  14-oz. can diced tomatoes, drained of all liquid
2 15-oz. cans white kidney beans (Cannellini beans), drained
½ pound smoked sausage, cut into ½ inch thick slices
¼ cup dry white wine
NOTE: I use smoked turkey Andouille sausage; smoked Kielbasa is also good if you don't like the spiciness of Andouille. You can use smoked turkey or smoked pork sausage in this recipe.
Steps:
Remove any unwanted fat from the chicken. You can remove the skin as well if you are minding your fat grams! It will not affect the tenderness of the completed dish. Salt and pepper the chicken.
In a slow cooker large enough to accommodate all the ingredients, layer the chicken and remaining ingredients

except

the wine, beans and sausage.
Once you have layered the ingredients, top with beans and sausage.
Pour wine over the top and add a healthy grind of coarse black pepper and a little sprinkle of salt over the top.
Cover and cook on low for 6 to 7 hours, or until the chicken is tender.
Serve with a crisp endive salad tossed with a little extra virgin olive oil, salt and lemon juice.  Heat up a crusty baguette and you will think you have landed in France!
Bon Appetit!