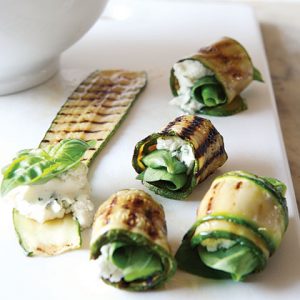 Zucchini Roll-ups
I found this recipe a few years ago and adapted it to my taste.
This is my go-to recipe when I want to whip up an extraordinary hor d'oeuvre in a hurry!
If you use a panini grill, you will make quick work of grilling the zucchini slices.
**See below for some easy and light summer entertaining ideas!**
Grilled Zucchini Roll-Ups w/ Herbed Chevre'
Serves 4
What you'll need:
3 small zucchini (about ½ pound each), cut lengthwise into ¼ inch slices
(If you want your slices uniform, you can use a mandolin)
1 Tablespoon olive oil
1/8 teaspoon of salt, plus more to taste
Pinch of freshly ground pepper or to taste
1 ½ ounces creamy Chevre' goat cheese (Trader Joe's)
1 Tablespoon minced fresh parsley
½ Tablespoon minced fresh tarragon leaves
½ Tablespoon minced fresh mint leaves
½ teaspoon fresh lemon juice
½ to 1 teaspoon grated lemon rind
½ to 1 teaspoon grated orange rind
Baby spinach leaves
Fresh basil leaves
Steps:
Preheat a grill or grill pan over medium heat.
Brush zucchini slices with olive oil on both sides. Sprinkle with the salt and pepper.
Grill until tender, 2 to 3 minutes; you want them cooked so that they bend easily without breaking, but not overcooked.
NOTE:  You can make the grilled zucchini a day ahead and store in an airtight container in the fridge.
In a small bowl, combine the creamy goat cheese, fresh herbs, orange and lemon zests and lemon juice, mashing them together with a fork.
Put ½ teaspoon of the cheese mixture about ½ inch from the end of a zucchini slice. Top with a  spinach leaf and one small or half of a large basil leaf.
Roll up and place seam side down on a platter. You may want to secure with a toothpick or small bamboo skewer for guests, but the roll should stay closed without securing.
Repeat with the rest of the zucchini slices and serve.
Summer-Light entertaining idea: If you serve these zucchini roll-ups along with various olives, a couple of nice cheeses and a steamed artichoke with light lemon cream dip, you have a PARTY!!
For my Light Lemon Cream Dip: 1 cup non-fat Greek yogurt, 2-3 Tablespoons olive oil mayonnaise, 1 Tablespoon lemon juice and zest of one whole lemon, a little salt and rinsed capers.