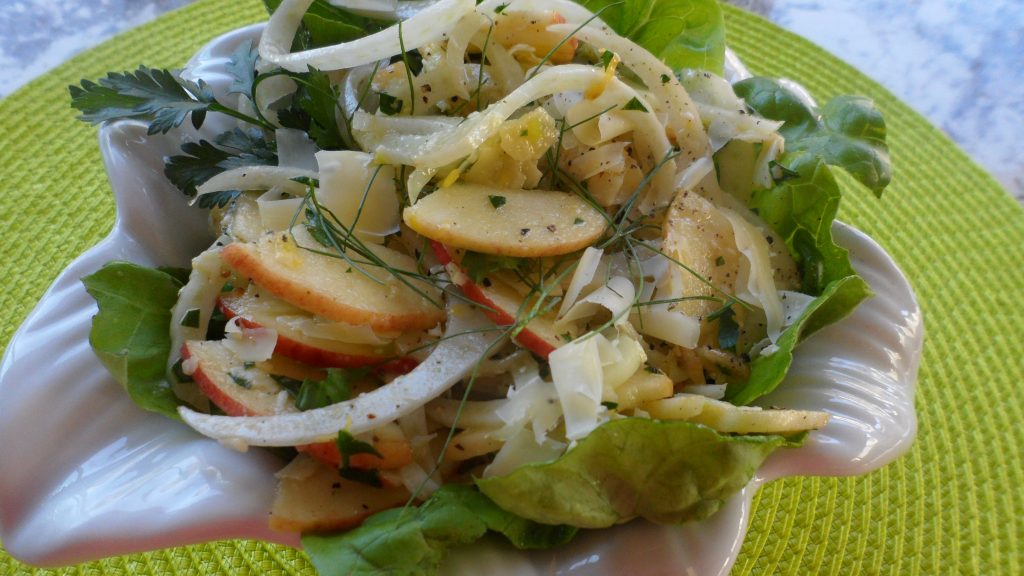 Apple and Fennel Salad with Shaved Aged Gouda
Serves 6
This humble, lightly sweet vegetable has been used for centuries in Mediterranean and Chinese cuisine as well as for medicinal purposes!
Apple Fennel Salad captures the delicate slightly licorice essence of fennel, the sweet-tartness of the apple, and is mellowed by the nutty flavor of the Aged Gouda.
Enjoy this delightful and healthful salad!
What you'll need:
2 medium fennel bulbs
4 Granny Smith or other sweet-tart apple, halved, cored and thinly sliced
½ cup thinly shaved Aged Gouda* or quality Pecorino Romano cheese
¼ cup extra-virgin olive oil, plus additional for serving
2 Tablespoons chopped flat-leaf parsley
1 Tablespoon grated lemon zest
½ teaspoon coarse salt
Lots of freshly grated coarse black pepper
Steps:
1.   Remove fennel tops and reserve green feathery fronds. Trim root ends; halve, core and thinly slice fennel bulbs, using a mandolin or very sharp knife.
2.  Chop 1 Tablespoon fronds and set aside for garnish.
3.   In a large bowl, combine sliced fennel bulbs, sliced apples, cheese, olive oil, parsley, lemon zest, salt and pepper. Toss gently.
4.  To serve, arrange salad on a large, chilled serving plate lined with lettuce leaves.
5.  Drizzle with additional olive oil to taste, a grinding of freshly grated black pepper, perhaps a pinch of quality finishing salt, and sprinkle with reserved fennel fronds.
*NOTE:  I have found that Whole Foods carries an outrageous aged Gouda called "Unie Kaas Hollandse Gouda". It is aged 6 months and is very good in this recipe (or for just about anything!!)